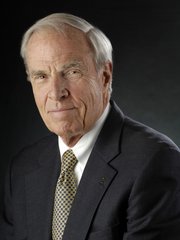 If you go
What: A public reception with University of Colorado President Bruce Benson
When: 5 to 6:30 p.m. today
Where: Steamboat Grand Resort Hotel
RSVP: To RSVP, e-mail communityevents@c.... The event is free and open to the public.
Steamboat Springs — University of Colorado President Bruce Benson will make the rounds in Steamboat Springs and Craig today as part of a "Contributing to Colorado" tour across the state.
This summer's tour, through mountain communities including Aspen and Vail, aims to thank donors and emphasize the need for a public education system in Colorado, according to CU's outreach office.
Benson will meet with the Rotary Club of Craig for breakfast from 6:50 to 8:20 a.m. today. He will hold other private meetings in Craig before meeting with the Rotary Club of Steamboat Springs from noon to 1:30 p.m. at the Steamboat Grand Resort Hotel, followed by more meetings with state lawmakers.
In the evening, Benson will host a public reception from 5 to 6:30 p.m. at the Steamboat Grand Resort Hotel. The event is free and open to the public, but organizers request that anyone interested register beforehand by e-mailing communityevents@cu.edu.
CU's Director of Communications Deborah Mendez-Wilson said this is Benson's second summer tour of Colorado.
"He greets and meets donors, alumni, community leaders and other people. It's also his opportunity to meet with members of the public and tell them what's going on at CU," she said.
Benson became CU's 22nd president in March 2008. As president, he oversees CU's four campuses - Boulder, Colorado Springs, Denver and the Anschutz Medical Campus. The CU system has 54,000 students and an annual budget of $2.6 billion.
Benson, a CU alum, founded Benson Mineral Group in 1965. He was elected chairman of the Colorado Republican Party four times, and he was the Republican nominee for governor in 1994. In February, Benson was named to the Colorado Business Hall of Fame.
The University of Colorado recently announced $134.5 million in donations during the 2008-09 year from 50,000 donors, a record number of contributors. The amount of the donations, however, was down from the record-setting year of 2007-08, when CU received $162.5 million.
"The decline in dollars raised is most evident in the sharp drop in gifts at the highest ($10 million plus) level, as steep market declines put unprecedented pressure on large-gift sources. While 2008 saw three donors give more than $10 million each, no such gifts were received in 2009," according to a CU news release. "Excluding such donations, dollars raised for CU in 2008-09 exceed last year's total by more than 14 percent."