If you go
What: African drum and dance classes and performance
When: Adult classes at 5:30 p.m. (drum) and 6:30 p.m. (dance) today, youth class at 1:30 p.m. Tuesday, performance at 5:30 p.m. Tuesday
Where: Strings Music Pavilion
Cost: Classes cost $15 each. The Tuesday performances cost $10 for adults and $1 for children.
Contact: Call Nicole Idzahl at 736-2318 for information about classes and 879-5056 to purchase tickets for the performance, or visit www.stringsmusicfestival.com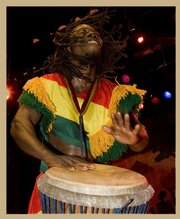 Give it a try
Like JJ Odell, Jen Lowe took her first African drum and dance class in Steamboat in the mid-1990s. She said African dance and drum goes back further than that locally but has really developed a core group in the past five years.
She thinks part of that popularity is because African drum and dance is something everyone can do.
"The great thing about it is, you don't have to have been a dancer," she said. "With African dance, you can be whoever. You get into it and have a good time. There are people who can't keep the beat and people who can't stay coordinated. If you stick with it, you'll get better."
And it's a lot of fun, she added.
The Steamboat African Dance & Drum Ensemble's next performance is at 3 p.m. Aug. 22, on Yampa Street during the All Arts Festival. A $10 community class will be offered from 10 to 11:30 a.m. that day at Perry Mansfield Performing Arts School and Camp.
In addition to the Kissidugu classes today and Tuesday, there are a number of classes offered through CMC. The fall semester starts Aug. 21.
Lowe said a one-credit beginning class will be offered from 5:15 to 6:15 p.m. Tuesday and Thursday nights at the Depot Art Center at a cost of $45 for in-district students. A one-credit intermediate/advanced class will be offered from 6:30 to 7:30 p.m. Tuesday and Thursday nights, at the same location and cost. An African drumming class also will be offered.
For more information, visit http://yampavalley.info and click on the "Arts and Culture" link, then "Steamboat African Dance & Drum Ensemble." Under "Dance & Drum Classes" at the bottom of the page, click on "African Dance & Drum Classes in Steamboat: Fall 2009."
Steamboat Springs — A former local is returning to Steamboat Springs today to help teach an African drum and dance class.
JJ Odell, whose "labor of love" with African drum and dance began more than 10 years ago in Steamboat Springs, is teaching and performing today and Tuesday with the Boulder-based troupe Kissidugu, West African Percussion and Dance. Led by teacher Fara Tolno, the troupe is teaching two adult classes tonight and a youth class Tuesday afternoon. The troupe performs twice Tuesday at Strings Music Pavilion.
Odell moved to Steamboat in 1994, when she was 19 years old, for the skiing and to eventually attend Colorado Mountain College's Alpine Campus. She took her first class through the college a couple of years later.
She said she immediately was drawn to African drum and dance.
"The power that comes from the drumming - it's so rich culturally," she said. "It speaks to your body on a bunch of different levels, deep ancestral levels. I've always been drawn to drums since I was a hippie going to Grateful Dead concerts. It taps into something a little deeper in me."
Odell added that it's not just about "shaking your booty," but there is some of that, too.
"I kind of got hooked, and I'm still doing it," she said.
Odell left Steamboat in 1999 and spent some time studying African drum and dance in Ghana, West Africa, in a program through Colorado State University. She later landed in Denver and got involved with Kissidugu, which means "a safe place" in the language from Guinea, West Africa.
Tolno, a native of Conakry in Guinea, leads the troupe. Playing djembe drums since he was 9, Tolno has traveled the world performing and teaching.
Odell said he "eats, sleeps and breathes music and dance."
And it's not the first time Tolno has taught and performed in Steamboat, said Jen Lowe, a member of the Steamboat African Dance & Drum Ensemble, who teaches classes at the college.
Lowe said the Steamboat ensemble often tries to bring guest teachers from Africa to the Yampa Valley, and Tolno is one of the locals' favorites.
"He's a drummer, a dancer and a teacher. He can do it all," Lowe said. "His energy is just very exciting. He's taken this group (Kissidugu), they're just people from Boulder, and when I see them perform - and I've seen African dance troupes - they've got it."
Odell said Kissidugu will hold a camp, Merveilles, Wednesday through Sunday in Boulder. For more information, visit www.kissidugu.org.
All Kissidugu classes and performances today and tomorrow are at Strings Music Pavilion. The adult djembe drum class is at 5:30 p.m. today and the dance class is at 6:30 p.m. today. The youth class is at 1:30 p.m. Tuesday. The cost for each class is $15. A youth performance, scheduled for 11 a.m. Tuesday, is sold out. A performance for families is at 5:30 p.m. Tuesday Tickets cost $10 for adults and $1 for children.