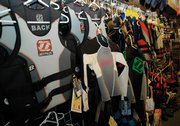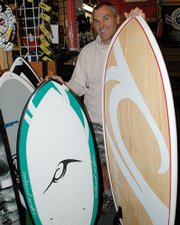 Rental fees
- Steamboat Lake Marina
Online: www.steamboatlake...
Call: 970-879-7019
20-foot pontoon, $125 for two hours
22-24 foot pontoon, $160 for two hours
Runabout, $150 for two hours
All boats cost $60 for each additional hour
- Stagecoach Reservoir Marina
Call: 970-736-8342
20-foot pontoon is $98 for two hours and $180 for four hours. $45 for every additional hour
24-foot pontoon is $124 for two hours and $230 for four hours. $60 for every additional hour.
- Boardom Bound
Online: www.boardombound....
Call: 970-846-5926
Wakeboarding, $100 per hour, including boat and equipment
Wakesurfing, $125 per hour, including boat and equipment
The Sunset package is available from 5:30 p.m. until dusk for $250
- One Stop Ski Shop
Combo skis, $20 a day
Wakeboard $20 a day
Wakeskate, $20 a day
Wakesurfer, $25 a day
Slalom ski, $25 a day
Towable toy (tube), $15 a day
Lifejacket, $2 a day
Rope, $2 a day
Get on the water
The marinas at Stagecoach Reservoir and Steamboat Lake offer pontoon boats for rent, and Steamboat Lake has a 90-horsepower runabout. None are fast enough, strong enough or allowed to be used for wakeboarding or water skiing.
Steamboat Springs — Why aren't water sports - water skiing, wakeboarding and the variations that have flared up in the past five years - more popular in Routt County?
It's a question that easily was answered Friday evening. The beauty of Steamboat Lake almost was enhanced by the dark storm clouds that stood like a line of knights on the horizon, flanking the venerable Hahn's Peak and blotting out the late-afternoon sun. But to Danny Tebbenkamp, the dark clouds signaled little but frustration.
It already was cold to consider a dip in the lake, and it only got worse when the rain came. A sudden and icy wind picked up, and he made a mad dash for the dock, snapping tight the boat's cover as the rain intensified.
An hour later, almost too late to get back in the water, the sky was clear, and the sun was bright.
Yes, wakeboarding and water skiing in Routt County take some : dedication.
A deep desire
Ignore for a moment that there are precious few days above 85 degrees and even fewer months with average temperatures above 70. Even after all that, wakeboarding and water skiing near Steamboat Springs is difficult.
It's a fact that has been slowly dawning on John Kole for the past 23 years.
"Why do I stay in the business? Because I'm stupid," he said, laughing on a slow afternoon midway through his 23rd Steamboat summer.
His One Stop Ski Shop in downtown Steamboat Springs specializes in snow skiing gear, and he sells and rents boots and skis and all the necessary equipment to the throngs of eager powder hounds who dominate most of the Steamboat sports scene.
But Kole came from a water skiing background. He worked in the industry long before moving to Steamboat, and once he moved to the Yampa Valley, he decided to stay in the business.
"It's been dying over the years and especially this year with money as tight as it is," Kole said. "It's never been hot. It's had some spurts, but it's slow."
Finding a way
The easiest way on to the water is simple. Buy a boat. Of course for the thousands of Steamboat residents short the $60,000 it might cost to get into a new wakeboarding craft, that's not a very realistic option.
One Stop Ski Shop will provide the gear. A combo pair of skis or a wakeboard can be rented for the day for $20. Add a lifejacket and a towrope for $2 each.
"We'll rent pretty much everything you need," Kole said. "Except the boat."
Still, renting a boat locally isn't much of an option.
Neither of the two area marinas - there's one at Stagecoach Reservoir and one at Steamboat Lake - offer anything with which One Stop Ski Shop's rentals can be used. So renting isn't an option, but Tebbenkamp's Boardom Bound is.
Boardom Bound is a new Steamboat-based company that offers lessons and access in board sports of all sorts. Tebbenkamp first got his feet wet in the spring with riverboards, and as summer has progressed, so has his business.
He's taking reservations for trips on the company's boat. His Malibu Response is ideal for wakeboarding, but the company isn't restricted to that.
It also offers wakeskating, which is similar to wakeboarding only with a much smaller board that isn't attached to the skater's feet.
On Friday, with a storm threatening to ruin the trip to Steamboat Lake, Tebbenkamp took the few rain-free moments to wakesurf, another option the company provides.
Wakesurfers ride what amounts to a stubby surf board. They get up out of the water as if riding a regular wakeboard - again one without foot bindings - and eventually toss away the rope, riding the boat's wake like it were a roller off Waikiki.
"There's not very many outlets in Steamboat. You can buy the gear, but that's it," Tebbenkamp said. "None of this is readily available unless you have a boat or know someone who has a boat. This brings it to people who don't otherwise have the opportunity."
Tebbenkamp harbors dreams of expanding his young business, talking about possibly upgrading his already capable boat or even opening a cable park that would allow wakeboarders to ride without a boat. For now, though, he said he's content in the market he's found - offering landlocked and boatless riders at least one way to get on the water.
"It's fun just getting out on the water with people," he said. "In Steamboat, everyone's always looking to try something new, especially if it's a sport or something with some adventure. Wakeboarding has been around, but there really aren't any other outlets in Steamboat."