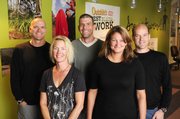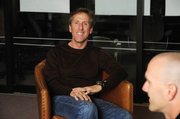 Steamboat Springs — SmartWool President Mark Bryden is leaving for pastures that are, if not greener, a little different.
Bryden is headed for a position as vice president and general manager of Timberland North America. Mark Satkiewicz, who was vice president of sales, will take over as president and general manager at Steamboat Springs-based SmartWool. As part of the shuffle, Chris Hahn will become chief administrative officer.
Bryden will be based in Stratham, N.H. He said he plans to keep his house in Steamboat Springs but wouldn't be involved in SmartWool. The Merino wool sock and apparel company is a wholly owned subsidiary of Timberland. Timberland President and CEO Jeff Swartz announced the changes Tuesday.
Bryden said he is looking forward to new challenges at Timberland.
"It's a new category of product I have not had past experience with, footwear," he said.
Bryden said he expects to need to adjust to a larger climate and a new culture.
"Wrapped around all that is to get the business growing again," he said. "That's a big challenge."
Timberland's earnings report came out last week and showed a second-quarter net loss of $19.2 million, or 34 cents per share. Revenue declined 14.4 percent to $179.7 million for the quarter. Revenue in North America declined 13.3 percent to $86.3 million.
As he heads off to Timberland, Bryden said he'd miss the people, the mountain and the snow in Steamboat. But he said he was pleased to leave SmartWool in the hands of Satkiewicz, whom he called a "thought partner."
"It was a question of what the SmartWool brand needed to drive the business," Bryden said.
Bryden has worked for SmartWool for five years, spending the past three as president and general manager. Timberland bought the company in December 2005.
Satkiewicz joined SmartWool in June 2006 as vice president of sales. Stepping into Bryden's spot could be a challenge, Satkiewicz said.
"I think taking over for Mark and any good leader, anyone who's made progress, is going to be significant," he said.
He said he hopes to keep SmartWool on track as a leader in its industry. Outside Magazine has named SmartWool one of the top 10 places to work for two years running, and the company earned recognition as a strong brand from the Outdoor Industry Association, spokeswoman Molly Cuffe said.
"The economy has affected everyone," Satkiewicz said. "It's affected us, certainly, a little bit, but we're outpacing our competition in a serious way, and we think our business model will allow us to continue to do that."
Hahn, who was heading European operations from a base near London, will return to Steamboat as chief administrative officer. That full transition will happen after SmartWool replaces Hahn in Europe.
In his new role, he'll handle the supply chain, information technology, finance and some internal projects. Hahn has been with SmartWool for more than five years and has worked in those areas.
He aims to help make the company more efficient.
"SmartWool's getting bigger, and we're a bigger part of our customers' business," Hahn said. "And as we get bigger, we have to do things better."
Satkiewicz said the changes would improve how SmartWool does business.
"One of the things I asked the company yesterday was that everyone at every level be a leader," he said.
From there, SmartWool's long-term goals are to drive customers to the brand and keep them there.
"It's a focused approach to the business that I think is going to be really productive," Satkiewicz said.
He said the company plans to increase its community involvement. SmartWool employees volunteer in the Yampa Valley, and the company sponsors a variety of events. SmartWool doesn't plan to go anywhere, Hahn and Satkiewicz said.
"We love our team, we love the culture of this company, we love SmartWool, and we love Steamboat," Satkiewicz said. "The passion that we have for that is incredible."