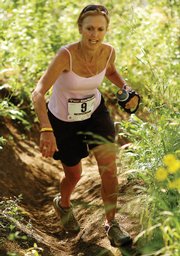 Top results
Mount Werner Classic
- Men's 12-mile race
1. Steve Moxey, 1:44:35
2. Andy Picking, 1:50:05
3. Harry Niedl, 1:52:40
- Women's 12-mile race
1. Kristi Jordan, 2:04:44
2. Amy Smith, 2:14:42
3. Mary Schuette, 2:21:31
- Men's 5-mile race
1. Tyler Scholl, 50:34
2. Shawn Scholl, 52:04
3. Greg Yamada, 53:07
- Women's 5-mile race
1. Tabor Scholl, 57:20
2. Missy Krause, 59:48
3. Christy Coughlin, 1:00:03
Steamboat Springs — Some of the challenges in Saturday's Steamboat Springs Running Series event, the Mount Werner Classic, were obvious.
It is called "Mount" Werner, of course, not the "Werner Lowlands" or even "Werner Hill."
The steep ascent that took racers from the base of the ski area more than 2,000 feet up to the top of Thunderhead took a toll. Many of the racers walked through difficult portions and relished their time at the aid stations.
But other challenges - tricks of the mind, mostly - were less obvious.
The constantly twisting trail, which followed switchbacks through aspen and pine forests and wide-open meadows with expansive views, often was a detriment.
"It's hard to stay motivated when you can't see the guy in front of you," said Harry Niedl, who finished third in the men's 12-mile race. "When they pop up, you know you have to keep going, but it's hard."
That mental block was just one of many hurdles 94 racers overcame Saturday. Those obstacles didn't scare many off. Like many of the other Running Series races this summer, the Mount Werner Classic enjoyed a significant boost in numbers, up from just 70 competitors a year ago.
Steve Moxey didn't have to worry about who was in front, though he was plenty aware of the gauntlet that awaited him as he stood at the early morning starting line. A former collegiate runner at Saint Francis University in Pennsylvania, Moxey moved to Steamboat a year ago, and last summer's Mount Werner Classic was the first mountain race he tackled.
"I walked 90 percent of it," he said, reflecting Saturday morning.
He found his motivation in that disappointment, and he did a little better, to say the least, on his second crack at the course.
He pulled away from the lead pack three miles in and powered his way to a comfortable victory. He finished the 12-mile course in 1 hour, 44 minutes and 35 seconds, 40 minutes better than his 2008 time.
He was nearly six minutes ahead of Andy Picking, who finished second. Niedl was third in 1:52:40.
Kristi Jordan won the women's 12-mile race in 2:04:44, ahead of Amy Smith at 2:14:42 and Mary Schuette in 2:21:31.
Tyler Scholl and his sister, Tabor, managed to sweep the 5-mile titles. Tyler won the men's race in 50:34 and Tabor the women's in 57:20.
If glory motivated a few and time motivated others, some only had to look up to find reason to keep going.
Ward and Sherry Longbottom traveled to Steamboat Springs from Tampa, Fla., with their sons, 14-year old Greg and 12-year old Brian. The whole family already was familiar with Steamboat, having grown to love the resort town after befriending their ski instructor, Marc Sehler, on a 1994 trip. They've been back regularly since and now are contemplating moving to the Yampa Valley.
The family also already was familiar with races, having participated in plenty of competitions in Tampa. Still, they had never run up Mount Werner.
"Some parts were really steep, and I'd think maybe I was going to give up," Ward Longbottom said. "Then I thought of what an accomplishment it'd be to make it to the gondola, so I kept on going."
Others said they were driven by the course's beauty. The mountain was bright green, and blooming wildflowers were sprouting everywhere. Even that wasn't enough for some, though.
"It really was beautiful," Neidl said. "There were wildflowers everywhere on the side. But I was in pain. I looked up at them one time, and I just thought, 'Who cares?'"