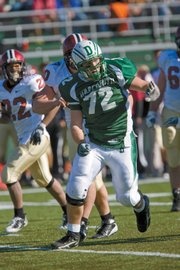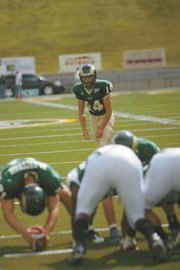 Steamboat Springs — Ben DeLine has been thinking only about perfection. The sophomore kicker at Colorado State University - who got into four games last year as a freshman, hitting 4 of 5 field goals and all six of his extra point attempts - enters this year's fall camp as the No. 1 guy.
DeLine was forced into action last year when first-string kicker Jason Smith was hurt in fall practices.
DeLine now has a little better idea of what fall camp has to offer.
"I want to be 100 percent inside 40 yards," DeLine said. "My goal is to be perfect. I'd never settle for anything less for myself."
But DeLine, a member of the Sailors' Class of 2008, isn't the only former Steamboat Springs High School football star prepping for a Division I fall camp.
At the University of Colorado, Trace Adams, a 2005 SSHS graduate, and Alex Wood, a 2009 SSHS graduate, are making the long treks as walk-ons. Jay Hanley, a 2008 SSHS graduate, is trying to get back into form and battle for playing time at Kansas State University, while out east in the Ivy League, Lane Shipley is trying to stay entrenched as the starting nose guard for Dartmouth College.
They all start fall camps this week, with the exception of Shipley, who begins in late August.
Prepping for playing time
DeLine and Shipley are the two players most likely to get playing time this year. They each left spring practices slotted in as the No. 1 guy at their respective positions.
DeLine, a former all-state kicker for the Sailors, starts camp Aug. 6 in Fort Collins.
His summer has been spent kicking, running and lifting every day. DeLine said that in his second year, fall camp seems a little bit less tense. He knows what to expect, where to be and what coaches are looking for.
And he knows he still has to perform.
"I wouldn't say it's my job yet," he said. "I still have to go through the whole camp and keep my head on the shoulders. I have to think of it as my job to lose. I can't go in there thinking this is my position and no one can take it from me. I have to work my tail off."
Shipley, a junior, is in a similar situation. After seeing playing time in nine games last year, Shipley was dubbed the starting nose guard for Dartmouth in the spring.
Now up to 260 pounds, Shipley said he's got high hopes for this season. After going through an 0-10 campaign last year, he said all the focus is on turning things around.
"I want to prove more, first off, to myself, then to the team and then to anybody that pays attention," Shipley said. "We're not a winless program. There was nothing really fun about last season."
Hanley handles pressure
Heading into his first fall practice after missing last season because of an injury, Hanley - who graduated from high school with DeLine and who now is playing fullback at Kansas State - knows prepping for fall camp is as much mental as it is physical.
He's been training all summer with the team, lifting, running and doing 7-on-7 workouts.
Still, on the eve of fall practice, there still is a bit of the unknown.
"You approach it like you'd approach anything else in football," Hanley said. "You get your mind in the right place. Your body is going to take a beating. You're going to be sore and tired. Everyone figures out their own way. I like to think about it on occasion, at least a couple times a day."
Hanley will be battling for playing time at fullback and special teams. He saw some action in the spring game, catching one pass for one yard.
Although Hanley said there are nerves going into his first camp, he's excited to prove he belongs.
"You get more comfortable with yourself," he said. "It's always going to be really hard, so you push yourself as hard as you can."
Walking on, working up
Adams and Wood are in similar, yet different, situations. They're both walk-ons at CU, but Adams looks to have a better shot at playing time.
Adams joined the CU team last summer, after his brother Joel had spent several years as a walk-on.
With the Buffaloes going to a more run-oriented attack, Adams has worked his way up to second on the depth chart at fullback.
"You have to bring it hard in camp," Adams said. "Camp sucks. It's long and hard, but at the same time, I'm intrigued by it. I really want to get some time here and there at fullback, but special teams is my main goal."
Wood, who said Adams has been an invaluable asset, has a steeper hill to climb. There are five players ahead of him on the depth chart at tight end, and his chances of playing this year are slim.
Still, Wood - a preferred walk-on this year - said he's loved everything about summer workouts.
"Everyone here is a super athlete," Wood said. "No one out there doesn't deserve not to be there. There are freaks out there. Everyone is better than you or equal to you."
Although Adams and Wood are walk-ons and might see little playing time this year, the allure of finally seeing the field is something that drives them.
"There is nothing like running down the field in front of 70,000 (fans)," Adams said. "You work hard. Being a walk-on is a different world. There are a lot of hills to climb over. It's not going to go your way every day."