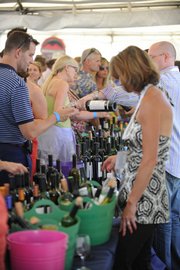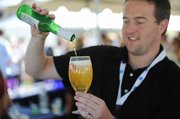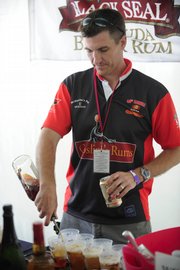 Steamboat Springs — Stewart Vandenberg, of Alexander Family Vineyards, comes to the Wine Festival at Steamboat each year for the educated patrons, steady traffic, and the lovely weather - which can change often.
About 500 people had checked in for the Stroll of Steamboat Grand Tasting, one of three main events of the sixth annual Wine Festival at Steamboat, by about 5:30 p.m. Friday. They were greeted with hundreds of wines to sample, appetizers from local restaurants, one short rain shower and one complete downpour.
Colorado Springs residents Lori and Brad Curtis have been coming to the wine festival for three years.
"We just like to come and enjoy different types of wines : and taste different foods from around the town," Lori Curtis said.
Participants in the wine stroll had a chance to sample food, wine, beer and spirits at mostly outdoor stops throughout downtown.
Raina Severinghaus, a server at Cottonwood Grill who has worked at the restaurant for the past nine
years, said the event offers a chance to attract new patrons. Wine stroll participants might make a reservation for dinner later in the evening after they sample vegetable and rice fritters and pork meatballs, she said. Those appetizers were flying off the trays, Severinghaus said.
"I honestly set the tray down and run to get out of the way," she said.
The wine festival officially wrapped with the Toast of Steamboat Grand Tasting on Saturday afternoon at Torian Plum Plaza. Wine Festival Producer Doug Larson said about 1,200 to 1,500 people attended the event, which is comparable to previous years. Larson said that's a pleasant surprise given the economy.
"I think it speaks volumes for Steamboat," Larson said. "The event is great. But Steamboat is awesome."
Chris and Tiffany Burns, of Fort Collins, were visiting the wine festival for the first time to celebrate their fourth anniversary.
"We now have a tradition," Chris Burns said.
The rain of Friday was replaced by sun for the third and final main event, which featured 800 wines, food from 10 restaurants, live music, a cooking competition and more.
"I'm a very popular guy," Colin Wells, a regional sales manager for Castle Brands, said while serving up one of Gosling's Rum's trademark Dark 'n Stormy cocktails. "People, they like the wine a lot, but about halfway through the day, the tenor of the festival changes, as does the decibel level. That's when it's rum o'clock."