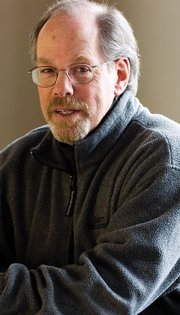 Steamboat Springs — When Steamboat Springs City Council debated affordable housing in January, the Community Alliance of the Yampa Valley was given a seat at the table, along with representatives from the local development community and the Yampa Valley Housing Authority.
It was a decision Councilman Walter Magill and others didn't seem to understand.
"Who are you guys?" Magill asked Community Alliance organizer Steve Aigner.
Aside from revealing its board members and its mission statement, the Community Alliance has closely guarded its membership, declining requests for a list of members because of a fear of retribution from employers and others. It claims about 200 members. While that only represents about 1 percent of Routt County's population, the organization also claims to represent the majority of residents against special interests.
The nonprofit group was created in 1999. Growth and development always have been the Community Alliance's major focus, and throughout the years, group leaders frequently have spoken out about issues of importance to members such as Triple Crown and gravel pits. The organization also hosts lecture series, presentations and candidates' forums and once a year honors its New Pioneers of the Yampa Valley for practicing sustainability.
In its early years, Community Alliance board members often spoke publicly on behalf of the group. Recently, however, the group has leaned more on its organizer. Since he was tapped for the position in early 2008, Aigner has been a frequent face at City Council meetings and other venues.
A video of an April lecture Aigner gave at Iowa State University has received substantial attention locally for what it may reveal about the group's views.
Seemingly contradicting the Community Alliance's claims that it is not anti-growth, Aigner said in the lecture that the organization has "fought growth forever" and that "no growth would be the preference for at least half the members." Aigner, a professor emeritus at the university, also claims that real estate and development interests historically have controlled local politics.
Community Alliance officials have argued that the lecture has no local relevance. But in addition to his words 700 miles away in Ames, Iowa, Aigner actively has expressed his views locally about issues including affordable housing, real estate taxes and water rights.
In e-mails obtained by the Steamboat Pilot & Today, exchanged in May between Aigner and local developer Tony Connell, for example, Aigner levels about a dozen accusations against developers, public officials and the Yampa Valley Housing Authority. Among the allegations, Aigner claims collusion between developers and YVHA and illegal behavior by a former City Council president. He writes that "80 percent of the community who do not directly benefit from development have been 'played' by this City Council."
The e-mails and responses - whether including Aigner or council members, developers or housing officials - reveal a lively, argumentative and largely unseen web of communication that lies in the background of public meetings and decisions about the future of the Yampa Valley.
Deed restrictions
The exchange with Connell began with Aigner questioning one of the developer's projects, West End Village. Aigner suggests in the e-mails that records of deed restrictions and second mortgages in the neighborhood "fell through the cracks." In one of the e-mails, Aigner writes a bulleted list of nefarious behavior throughout the community that he claims to have knowledge of.
As Connell told Aigner, and the Steamboat Pilot & Today has confirmed, the records in question for West End Village are kept by, and available for inspection with, YVHA.
Also in his exchange with Connell, Aigner discusses an e-mail he was forwarded in April 2007 from City Councilwoman Cari Hermacinski to developer and real estate broker Jim Cook. Aigner said that e-mail captured completely the subsequent campaign he led that November against Hermacinski and other candidates who were said to be "in the pocket" of developers. Hermacinski was a city planning commissioner at the time.
In the e-mail in question, provided to the Steamboat Pilot & Today by Hermacinski, the councilwoman writes, "I am very concerned about the direction this (City Council) is taking this community. I would like to see more vocal and represented involvement of the development community and wonder if you, as a group, are turning your minds to the November elections when 5 of the seats will be up for re-election."
Transfer tax
Aigner also claims in his e-mail to Connell that Danny Mulcahy, principal and project manager for the proposed Steamboat 700 project seeking annexation, had inappropriate conversations with Routt County Commissioner and YVHA board member Nancy Stahoviak. Noting that YVHA stands to benefit from the proceeds of a real estate transfer tax within the development, Aigner suggests the two discussed citing YVHA in exhibits of Steamboat 700's annexation agreement with the city "thus constituting : conflicts of interest" and agreements made outside of the proper public forum.
Mulcahy and Stahoviak denied the claims.
"Any conversations I've had with Nancy Stahoviak have been in a completely public forum," Mulcahy said.
Stahoviak said she never has had a private meeting with Mulcahy and said she was "totally baffled" by Aigner's claims.
"We have never had any discussions about citing YVHA in any part of the annexation agreement," Stahoviak said. "I don't have a clue what he's talking about."
Aigner also claims that YVHA colluded with developers by uninviting city staff to a meeting when the real estate transfer tax was first discussed. YVHA's new projects subcommittee did meet with developers in December to discuss the proposal. YVHA Asset/Program Manager Mary Alice Page-Allen said the committee was trying to work with one group of stakeholders at a time and that the city was involved in the decision to allow the committee to have a discussion with developers only. Nonetheless, the subcommittee meeting was an open, public meeting, and anyone could have attended.
When the idea of a real estate transfer tax was presented to the full YVHA board later that month, two City Council members were present.
Page-Allen and Stahoviak also noted that two YVHA board members - President Ed MacArthur and Catherine Carson, a member of the Community Alliance - sit in on city staff meetings when Steamboat 700's affordable housing plan is discussed.
Housing
Aigner also claims in the e-mails that Resort Ventures West, developers of Wildhorse Meadows, manipulated a contract holder for one of its affordable housing units and lied to the city about applying for a federal condominium financing program. Aigner also addressed the items related to Resort Ventures West during public comment at a City Council meeting and in letters to council members.
"I have had a First Tracks homebuyer tell me that RVW canceled an appointment to close on his unit because RVW wanted to strike a deal with (City Council)," Aigner wrote.
Mariana Ishida, development manager for Resort Ventures West, said she called a meeting with all of the First Tracks contract holders to discuss their options given financing difficulties. Ishida said no closing appointments existed to cancel and that none of the contract holders were ready and able to close. She said she told the group that their options included extending their contracts or working something out with the city, which ultimately is what happened.
"All we were saying is, 'We'll give you the time you need,'" Ishida said. "We have only terminated contracts on request."
Aigner based a claim that Resort Ventures West lied to the city on a report written by city staff for the May 5 City Council meeting. The staff report said Resort Ventures West told the city it was applying for condominium financing through the Federal Housing Administration but had not. Ishida produced correspondence showing Resort Ventures West has been working toward applying for the FHA program for more than a year but has not completed a list of items necessary to comply. For example, FHA requires that 51 percent of a condominium project be pre-sold or under contract, but First Tracks never has come close to reaching that threshold.
Water
Aigner also writes in his e-mail to Connell that former City Council President Mary Brown acted illegally by signing an agreement to grant an easement to the city for a water line across a 540-acre parcel she owned west of Steamboat. In exchange for the easement, the agreement states that the city will provide taps free of charge on the property. A temporary easement agreement was signed in 1993 by Brown and her former husband, as the property owners, when she was City Council president. The agreement became permanent after the water line's construction in 1995. Former City Manager Harvey Rose signed the agreement on behalf of the city.
"My recollection is that City Council, without me included in the action, voted to authorize the city manager to sign, in part because I couldn't because I was president of council," Brown said. "I stepped down for and in fact left the room when that happened."
The land in question was sold to Mulcahy and his Steamboat 700 partners in 2007. Aigner also writes that Steamboat 700 behaved deceptively by claiming that the Brown easement agreement required the city to supply water to the property and that the development shouldn't have to bring water rights or money to develop existing water rights to the table as a condition of annexation. The city argued otherwise and is requiring Steamboat 700 to pay about $1 million to develop existing water rights.
"To claim that it's some kind of conspiracy is excessive," said Bob Weiss, an attorney representing Steamboat 700. "It's just a debate about what the agreement means."
E-mail privacy
Aigner would not comment for this story.
"I do not have authority from the Community Alliance to speak about matters other than statements I make in public about positions on issues taken by the Community Alliance or its subcommittees," Aigner wrote in an e-mail. "I do not have permission from my family to comment on anything I may have sent or may have received as a private e-mail. We treat all e-mails as private communications and, therefore, e-mails are intended as private communications and meant only for the direct receiver.
"If an e-mail is forwarded without the permission of the original sender, we see that as a violation of the implicit, original and mutual understanding of the communicators regardless of what may happen subsequently."