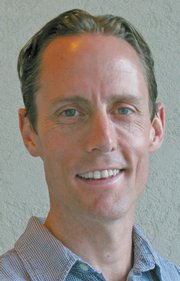 Dr. Scott Fahrner, a Steamboat Springs anesthesiologist, has earned certification from the American Board of Anesthesiology, according to a news release. The process involves oral and written exams. Fahrner joined the Elk River Anesthesia practice and the staff at Yampa Valley Medical Center in June 2008.
FROM THE DENVER POST:
Colorado firms take in venture-capital infusions
Two Colorado-based "new energy" companies - Tendril Networks and Gevo - received major venture-capital infusions in the second quarter, according to an Ernst & Young LLP analysis.
Boulder-based Tendril, maker of smart-electricity-grid software, received $30 million in funding; Gevo, an Englewood alternative-fuels producer, received $40 million, according to the analysis.
The two investments were among the top five reported venture-capital deals nationwide for clean-energy and environmental-technology companies in the quarter, Ernst & Young said. The deals were part of a surge in venture-capital investment in the sector, with a 73 percent increase from the first quarter to $572 million.
Qwest earning money but losing customers
Cost cutting and high-speed-Internet subscriber growth helped Qwest post an 18 percent increase in second-quarter earnings, but the company continues to lose phone customers at an accelerating rate.
Land-line disconnections, largely responsible for the company's 9 percent decline in revenue for the quarter, are expected to worsen during the rest of the year as business bankruptcies, competition and wireless substitution eat away at Qwest's core business.
Total land lines declined 11 percent in the second quarter to 10.9 million from 12.2 million a year ago.
Qwest shares declined 13 cents to close at $3.93 on Wednesday after the Denver-based company reported second-quarter net income of $212 million, or 12 cents a share, on revenue of $3.1 billion. The company's income taxes declined by $113 million, bolstering the bottom line.
FROM THE ASSOCIATED PRESS:
Groups to merge, push Wal-Mart for better pay
LITTLE ROCK, Ark. - Two union-backed groups announced Friday they are merging so they can consolidate their efforts to pressure Wal-Mart to provide higher pay and better benefits.
Wal-Mart Watch, backed by the Service Employees International Union, will move under the name WakeUpWalMart.com, a group backed by the United Food and Commercial Workers Union. In separate efforts, the groups have spent years criticizing Wal-Mart, issuing news releases, running ads and enlisting Wal-Mart workers.
UFCW spokeswoman Meghan Scott said the groups share the same goals of pushing Bentonville-based Wal-Mart to pay higher wages and improve health coverage and other benefits.