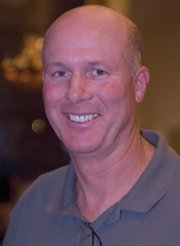 Steamboat Springs — Steamboat Springs City Manager Jon Roberts has chosen to delay the hiring of a finance director at a time when declining revenues and budget cuts have made the city's coffers a principal concern.
"After conducting a nationwide recruitment for the position of Finance Director, and after receiving input and recommendations from the interview team, our management team, and the staff of the finance department, we shall not, at this time, fill the position of finance director," Roberts wrote Friday in an e-mail to Steamboat Springs City Council and city department leaders. "(Assistant Finance Director) Bob Litzau shall continue in the capacity of interim finance director."
Three finalists were interviewed for the position last month. City Council President Loui Antonucci said he is disappointed, but not surprised, that the city didn't receive a better response from applicants for the position. Antonucci guessed that, given the economic climate, potential applicants are hesitant to leave their current jobs and worried about the prospect of having to sell a home to make the move to Steamboat Springs. City Council wasn't involved in the recruitment process.
"From what I understand, there wasn't a lot of applicants. (Roberts) told me it was kind of thin," said Antonucci, who added that the Finance Department is shorthanded and stressed but that Litzau is doing a good job. "We've got a good staff, and we'll get through it."
Roberts wrote in his e-mail that the city is "currently evaluating the most appropriate method of adding additional resources to the Finance Department," but that any additional efforts to recruit a director will be delayed until after the development of the 2010 budget.
"I would imagine it's going to be six months or more," Antonucci said.
The finance director position has become a turbulent one.
Lisa Rolan held the position from March 2008 until she resigned in December. Before Rolan's hiring, the position had been open since former Finance Director Don Taylor was let go by former City Manager Alan Lanning in July 2007. Litzau has served as the interim director throughout the vacancies.
"I think we are (in) great need of a permanent finance director, but I definitely didn't want to go through with a 'bad' hire or end up with someone that would leave after a short period of time," Councilwoman Cari Hermacinski wrote in an e-mail. "But I have heard from both Jon and (Deputy City Manager) Wendy (DuBord) that, aside from possibly a police chief, a finance director is the most important department head for a city and a city manager, so I'm glad that the city manager is waiting for a good fit."
Last month, Roberts said he is "looking for somebody who obviously is very qualified with a rock-solid background in municipal finance" and somebody who can innovatively and enthusiastically confront the city's budget challenges.
In a departure from recent city practice, Roberts said he handled this hiring process in-house rather than contracting with an executive search firm.
Sales tax collections in Steamboat decreased by 5 percent in April from the previous year, and year-to-date sales taxes are down 16.4 percent in Steamboat compared with 2008.
Steamboat Springs' sales tax collections decreased by 16.5 percent in May. The city's general fund is down about 12.4 percent for the year.
The city made massive budget cuts this year, including a furlough program that has seen city employees' pay and hours cut by 10 percent. Also, Litzau said in June that the city is looking to cut an additional 10 percent, or about $2 million, from its 2010 general fund budget; that's on top of a revised 2009 general fund budget that already has been cut about 13 percent from 2008.