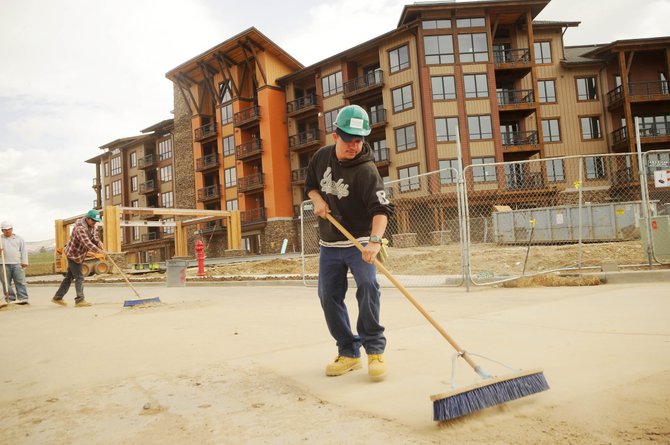 Local unemployment nears 6 percent
Statewide statistics reveal bleak construction outlook
For more
- For information about energy cost assistance, food stamps and other aid available from the Routt County Department of Human Services, call 879-1540 or visit the offices at 135 Sixth St.
- Job seekers who need help can visit the Colorado Workforce Center, 425 Anglers Drive, or call 879-3075. More information is at www.connectingcol... and www.coworkforce.c...>
Colorado's unemployment rate continues to trail the nation as a whole - and Routt County's rate continues to trail the state's - but the latest jobless figures for March reveal a troubling sign for one of the Yampa Valley's most important industries.
At 7.5 percent, March's unemployment rate was Colorado's highest since 7.7 percent in May 1987. Unemployment stood at 7.2 percent in February and 4.6 percent in March 2008. The national unemployment rate is 8.5 percent, up from 8.1 percent in February and 5.1 percent in March 2008.
"While deteriorating national economic trends continue to adversely affect Colorado's work force, the state's current jobless rate still is a full percentage point lower than that of the U.S.," Donald J. Mares, executive director of the Colorado Department of Labor and Employment, said in a news release.
Routt County's unemployment rate - which is not seasonally adjusted like the other figures - was 5.9 percent in March, up from 5.2 percent in February and 2.7 percent in March 2008.
"That means you're getting your fair share, but not more so, of the national recession," said Joe Winter, Colorado Department of Labor and Employment senior economist, who noted that Routt County's unemployment usually trails the state's by a couple of percentage points. "I would say it's a typical employment pattern for Routt County."
The Yampa Valley could be in for a bigger hit, however, with the approach of construction season. Statewide, construction employment usually increases in March with the temperature, but the industry lost 2,100 jobs last month. The construction industry is Routt County's largest job creator, according to the 2009-10 Community Indicators Project.
"Construction has been one of the areas hardest hit in this economic downturn," Winter said.
Jackie Mitchell, an employment specialist at the Colorado Workforce Center in Steamboat Springs, said the office currently is posting only one open construction job. "We're seeing a lot of people needing help," Mitchell said.
The city of Steamboat Springs and Routt County already are bracing for the downturn. The city has dropped its projections for building-use-tax collections from $1.5 million to $500,000. The county is expecting a $482,000 decrease in building-use tax from what it originally budgeted for this year.
On a regional scale, Winter noted that downturns in the energy sector have resulted in some unusually high unemployment rates in other Northwest Colorado counties. Rio Blanco County's unemployment was 5.5 percent in March, up from 3 percent in March 2008. Moffat County's unemployment was 7.2 percent in March, up from 4.4 percent in March 2008.