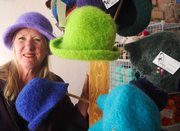 Steamboat Springs — To the nimble-fingered yarnsmiths who populate the Fiber Exchange, the shop is more than a place to buy a few hundred yards of wool.
It's a social club, a place women go to knit, crochet, weave and talk, owner Jodee Anderson said. Women - and it is mostly women - go there to find therapy and serenity in the tactile arts. Anderson's had customers with cancer and a woman mourning her husband's death. But after four and a half years, the Fiber Exchange is closing its downtown Steamboat Springs doors.
"I need to go to my studio and do my own artwork," Anderson said. "And it's very difficult to run a business like I have, to have a business like I have in Steamboat that needs to operate on year-round cash flow, and it's really seasonal."
The end of the Fiber Exchange won't mean the end of the sit-down yarn shop in Routt County.
On Monday, Karyn Tussey will open a yarn shop in Yampa. Tussey's shop, K&K Wools, won't look exactly like the Fiber Exchange. But Tussey plans to buy some of Anderson's stock and said she hopes her store fills a similar role.
"We'll be putting in a nice table and chairs so ladies can be here, have a cup of tea, hang out," Tussey said.
Losing a shop
The Fiber Exchange stood at 68 Ninth St., now Off the Beaten Path, for three years. Anderson then opened in a corridor off Lincoln Avenue, near Rocky Mountain Chocolate Factory, on July 2, 2007.
Now, Anderson plans to work in her Copper Ridge Business Park studio. She'll weave and put together knitting kits to sell. She plans to offer classes in the fall.
"I will be weaving, and I have a number of looms there," Anderson said. "I'll be teaching weaving. I'll be making rag rugs with my old wardrobe, and I'm moving into more of a therapeutic fiber arts business."
She realized about a year ago that the Fiber Exchange wouldn't survive. Anderson said she held off as long as possible, aiming to make it through the ski season for her seasonal regulars.
Locals also have supported the store, Anderson said.
However, she said, "I'm not sure we have enough local knitters to support a store with the variety and the quality of yarn that I have."
Steamboat resident Liza Weihman works at the Fiber Exchange - on a volunteer basis, to avoid complicating her friendship with Anderson. The loss of the store will be tragic, Weihman said.
"It really was a wonderful community-building place, and I don't know what's going to replace it," she said.
Anderson was melancholy about closing but hopeful about her plans.
"True passion never ends," she said. "It evolves."
Gaining a shop
Maybe it's something about knitters, but Tussey's personality falls along the same spectrum as Anderson's. The women move with a warm, welcoming air, and they adore the creativity and art of working with textiles.
Tussey has lived in Yampa for nearly seven years with her husband, Doug, in a 126-year-old house on Moffat Avenue. K&K Wools is tucked into the back of that house. The company is named for Karyn and her daughter-in-law, Katy Tussey, who also works with yarns. The women have run the company solely online for nearly four years.
Karyn Tussey was hooked at age 5, when her great-grandmother taught her to embroider.
"She told me it was never a good thing for a woman to sit with idle hands," Tussey said.
Tussey's shop shows that her hands have been busy. Her paintings, many done in Taos, N.M., add color to the walls. Hats in purples, blues and bright green (a shade Tussey refuses to wear) perch on racks Doug Tussey built. Tussey also quilts and hopes to teach classes.
Some of Anderson's supplies and yarns could find their way to Yampa, though Tussey plans to focus on her main brand: Brown Sheep Co. That wool comes from sheep in Nebraska, Colorado and Wyoming.
"The majority of the wool that's grown here goes to Brown Sheep Co., so we're bringing it back," Tussey said.
Tussey also was excited to promote Yampa. She's every bit the Town Board member pushing for economic development.
"I want people to come and enjoy Yampa and the history of Yampa," Tussey said, suggesting that women could pop by K&K and then head to Leisure Mountain Studio for coffee or the Royal Hotel & Bar for dinner.
Mostly, though, she wants people to swing by K&K. Her room is painted in comfortable blues and blue-purples. A kitchen barely contains a leafy monster of a houseplant, which Tussey called "the plant that ate Yampa" (it's available to a good home). A bar lines a slice of the room, where women can sit on stools, drink tea and crunch Peanut M&Ms.
Tussey plans to start with afternoon hours Monday through Wednesday but invited people to offer suggestions. Customers are welcome to call and stop in if she or Doug is home, she said.
K&K, like the Fiber Exchange, is a place full of soft things. Tussey encouraged people to dig in.
"The bottom line is use your imagination, and that's what yarn's about," she said. "It's like playing - playing with Crayons."