Photo Gallery
Ghost Ranch Saloon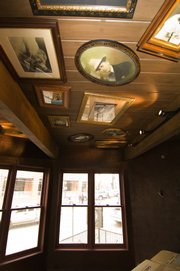 Confirmed bookings for Ghost Ranch Saloon
¤ May 22 (opening night): The Informants, free
¤ May 23: Tony Furtado, $15 advance, $18 door
¤ May 24: Agent Orange, $10
¤ May 25: Local band (to be determined), free
¤ May 29 and 30: Filthy Children, $10
¤ May 31: Aaron Watson, $10 advance, $12 door
¤ June 5: The Infamous Stringdusters, $12 advance, $14 door
¤ June 25: The Nadas, $8 advance, $10 door
¤ June 26 and 27: Rocky Mountain Grateful Dead Revue, $10
¤ July 18: The Reverend Horton Heat, w/ Nekromantix, $25 advance
Ghost Ranch booking agent David Arthur has contracts out to about 20 bands for dates between opening weekend and the end of August, said Joey Rind, manager of security and band relations for Ghost Ranch Saloon.
Those contracts have not been confirmed.
Advance tickets for Ghost Ranch shows will be available closer to concert dates at Pioneer Spirits, All That Jazz and online at GhostRanchSaloon.com.
Steamboat Springs — Any musician who might be skeptical about sound equipment quality in a completed Ghost Ranch Saloon could refer to venue co-owner Amy Garris's reaction to the speakers, soundboard and preamp that arrived at the bar early this week:
"Toys got here," Garris said, between petting the stereo equipment and eyeing it adoringly. "I've never owned any equipment like this. I've just stared at it in the recording studio - it's so fancy."
Ghost Ranch has announced a three-date opening weekend lineup starting May 22. Managers of the bar, restaurant and music venue are working on hiring staff and putting finishing touches on what will be a late-night food stop, honky-tonk bar and 400-person concert hall.
The nearly finished Ghost Ranch is decorated in an updated saloon style, with four VIP rooms in different motifs, an upstairs dance floor that looks like a flattened lava lamp and balcony-level stage views.
"Just about everything in here is just extremely over the top," said Joey Rind, manager of security and band relations for Ghost Ranch.
Over-the-top elements include an 1893 back bar with an extensive front bar designed to match, at least one mountain-lion-skin rug, dozens of taxidermy specimens and mosaic-tile walls in one of the VIP corners.
The speakers have a low profile and high output, Garris said, and bands will be able to record live sets through the Ghost Ranch soundboard, housed in a booth on the venue's second floor. An LED light board allows touring bands to plug a laptop with a pre-programmed light show into the Ghost Ranch system.
Garris, a musician herself, planned to test the sound system Tuesday night.
"I'm just foaming at the mouth to get all that stuff in there," she said about the sound equipment installation.
The venue's opening weekend lineup starts with a free show by Denver-based blues band The Informants on May 22, folk rocker Tony Furtado on May 23 and a group of punk rock mainstays May 24.
"We're going for Agent Orange on Sunday, so we're giving the venue an early workout," Garris said.
When the venue doesn't have a nationally or regionally recognized band on the schedule, Rind will fill the space with a local act, he said. Wednesday nights will be reserved for local bands and the bar plans to host live, local happy hour entertainment several days a week. The schedule will be completed by themed movie nights, DJ sets and dance nights, Garris said.
Opening each day at about 4 p.m., Ghost Ranch houses a full commercial kitchen and will offer a menu heavy on appetizers and bar food, with some salads and rotating entrees also available. A take-out food window facing the alley off Seventh Street will be open until around midnight Sunday through Wednesday and until about 1:30 a.m. Thursday through Saturday, Garris said.