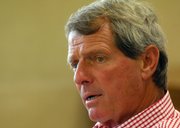 County to discuss furlough plan
Routt County officials are scheduled this week to discuss a furlough plan for most county employees. At 4 p.m. Tuesday in the Routt County Courthouse, County Manager Tom Sullivan is slated to present county commissioners with documents from each county department, detailing how employees could achieve a 10 percent reduction in hours worked, given the 10 percent pay cut implemented by commissioners April 1. Most department managers suggest either four, nine-hour shifts per week, or employees taking alternate Fridays off in an effort to maintain service levels.
Routt County Clerk and Recorder Kay Weinland suggested opening courthouse and courthouse annex offices, including the motor vehicle office, from 7:30 a.m. to 5:30 p.m. Monday through Thursday.
Sgt. Miles De Young of the Routt County Sheriff's Office suggested patrol deputies work three, 10-hour shifts and a six-hour shift Wednesdays, which would be used as an "overlap day" for managing deputies' hours.
No document bearing the name of Sheriff Gary Wall was included in the furlough packet submitted to commissioners.
Finance Director Dan Strnad said the accounting department does not plan to take on furloughs, instead remaining open from 8 a.m. to 5 p.m. Monday through Friday.
Steamboat Springs — Editor's note: This story has been corrected from its original version. Routt County commissioners and their staff did not receive a copy of Sheriff Gary Wall's letter until between 8:30 and 9 a.m. Monday.
A recently adopted 10 percent pay cut for Routt County employees has provided the next point of contention between the Board of County Commissioners and Sheriff Gary Wall.
Wall told County Manager Tom Sullivan on Thursday morning to expect a letter from Sheriff's Office attorneys challenging whether the commissioners have the authority to force a pay reduction on his department.
"I am standing up for the office of sheriff, and I am standing up for my employees," Wall said Friday. "I see that as my obligation as the elected sheriff. : It's a separate constitutional office. : It is my obligation to protect and not turn it over to the county to run."
County Attorney John Merrill said there is no question, in his opinion, regarding the county commissioners' ultimate authority of county expenditures.
"I don't know what they're thinking, quite frankly, but we'll just have to wait to see what they say," Merrill said Friday.
The commissioners received the letter from the sheriff's attorneys Friday afternoon, Wall said Saturday. But commissioners said they did not receive a copy of the letter until between 8:30 and 9 a.m. this morning. The commissioners are expected to discuss the matter at 11:30 a.m. today when they receive legal updates from Merrill.
Citing case law, the commissioners told Wall in their own letter Friday that they "will not authorize payment of any legal or other bills related to this attempt."
The county attorney's office usually provides legal services for all county departments. But Sheriff Gary Wall's quarrels with the county commissioners led them to advise Wall to seek his own legal counsel two years ago. The county attorney ultimately represents the Routt County Board of Commissioners.
While researching whether to pay contested private law firm legal invoices submitted by the Sheriff's Office last year, Sullivan said the county discovered case law supporting its decision not to pay for legal action against the commissioners.
"When a sheriff or any elected official is planning a legal action against the board," Sullivan said, "the board can refuse to pay any legal bills associated with that action."
Wall said it is "incredible" that the commissioners told him to find separate legal representation for the Sheriff's Office and is now refusing to pay legal bills.
"I find it interesting that we are making a legitimate legal challenge to what they've done, and the way they've responded to it is by saying they won't pay our legal bills," Wall said. "This potentially affects employees of all the elected officials. I'm prepared to form a legal fund that people can donate to, to pay legal fees for a lawyer to represent the employees of Routt County."
It is unclear whether the dispute ultimately will result in any formal legal action. Wall said his letter ends by asking the commissioners if they agree with his position. If he is right, Wall said he would not voluntarily cut his department's pay 10 percent to match the rest of the county.
"I'm not going to cut my people's salary if I don't have to," Wall said. "Why would I do that? : No other county in the state has done this."
The commissioners unanimously adopted the emergency countywide pay cut April 1 to help address a $4.9 million deficit in the 2009 budget. Wall said he thinks there were other ways to deal with the shortfall. Asked for specifics, Wall said, "I don't know. I'm not the commissioners."
"I don't want to get into a fight with the commissioners," Wall said. "I'd rather not do it, but I'd rather them not have done what they did. : I said they were going to suck the loyalty out of these people, and that's what they did. : Right now, I believe the right thing to do is make questions about this 10 percent cut."