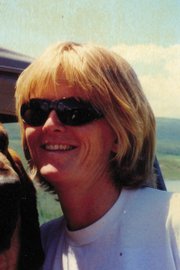 Steamboat Springs — Kit Rice, the widely known and adored sports coordinator for the city of Steamboat Springs, died of an unknown cause Sunday morning at the Yampa Valley Medical Center.
Routt County Coroner Rob Ryg said an autopsy is scheduled today for Rice, who was admitted to YVMC on Friday evening after suffering an injury during a kickball tournament at Howelsen Hill.
Ryg said Rice appeared to be improving during the course of the weekend before fainting at the hospital Sunday morning.
Ryg said Rice then went into cardiac arrest and was rushed in for surgery. She died on the operating table. Ryg said initial indications were that Rice was suffering from internal bleeding.
"There was no indication that was the cause of her death," Ryg said, "so that's why we're doing the autopsy."
Rice died at about 7:30 a.m. Sunday morning, Ryg said. Sources close to Rice said she might have died from a pulmonary embolism.
"There's so many wonderful things about her," said Laura Stamp, Rice's partner for the past eight years. "I'm going to miss my best friend. : I could write a paper about how great she was."
Rice, who lived in Stagecoach with Stamp and Stamp's son, would have been 48 next month.
Asked what people would miss most about Rice, Stamp said, "her honesty and her genuine disposition, her laugh, just her personality."
Stamp said Rice was a major proponent of women's hockey in Steamboat and encouraged women who were tentative to grab a stick and hit the ice. Rice most recently was a goalie for The Edge hockey team in the Women's Association of Colorado Hockey league.
Reached Sunday afternoon, Rice's boss and friend, Susan Petersen, recreation supervisor for the city, said she and her staff were devastated and wished to have time to gather themselves before speaking publicly about the tragedy.
In 2006, Rice told the Steamboat Pilot & Today that she moved to Routt County in 1989.
"My parents had bought a condo in the early '70s, so I had spent tons of time here," Rice said when profiled in Routt County Spotlight, a Sunday feature of the newspaper. "My friend and I decided to move up here and start a record store. We opened Wapiti Records & Tapes in the Franklin Mall and kept it going for a couple years."
Rice, who was born in Oak Park, Ill., a suburb of Chicago, said she grew up wanting to be a baseball player for the Chicago Cubs. The best piece of advice she ever got, Rice said, was that "Life is not for sissies." She said the book "Charlotte's Web" changed her life.
"It was the first book that made me cry," Rice said.
In her role as sports coordinator for the city's Parks, Open Space and Recreational Services Department, Rice oversaw the city's popular recreation leagues for sports such as softball and basketball.
"She was lighthearted but very caring," Stamp said. "She was very loved. My son's going to miss her a lot."
- To reach Brandon Gee, call 871-4210 or e-mail bgee@steamboatpilot.com