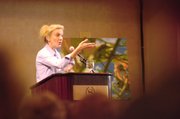 Steamboat Springs — On the day she turned 30, standing in line with her two young children to collect her diploma from the University of California at Berkeley, years after graduating, Karen Joy Fowler decided to be a writer.
Then a stay-at-home mom, Fowler took her children with her, keeping them occupied in the long line at the registrar's office by making up stories.
"My sort of entire philosophy, in these stories, was to have these children behave so badly that they would preempt anything my children would do," Fowler said.
When the woman in line behind them, enthralled with Fowler's storytelling, suggested she become a writer, Fowler knew she had figured out what to do now that her children were heading off to school.
"I thought, 'Wouldn't that solve everything?'" Fowler said, drawing abundant laughter from her audience Saturday. "I could not have been more ignorant about what I was trying to do."
Twenty-eight years later, Fowler, now the best-selling author of "The Jane Austen Book Club," "Wit's End" and "Sister Canary," shared heartfelt tales of her own story as a writer and publishing naivete Saturday at the Bud Werner Memorial Library's 16th annual Literary Sojourn.
Fowler garnered consistent laughter from the hundreds of women - and two dozen or so men - who assembled Saturday at the Sheraton Steamboat Resort.
"Ever since ('The Jane Austen Book Club'), there's always two men in every audience," Fowler said. "So I feel it speaks very well for the men of Colorado."
The congenial atmosphere between the authors and attendees is a big part of what continues to draw huge crowds to Literary Sojourn year after year, event committee member Karen Jimmerson said. Tickets to Saturday's event sold out in July.
"You truly have to be here to experience it - the camaraderie," Jimmerson said. "It's a love fest."
Attendees also heard from Andrew Sean Greer, author of "The Story of a Marriage" and "The Confessions of Max Tivoli"; "Mayflower" author Nathaniel Philbrick; Elizabeth Strout, author of "Amy and Isabelle"; and Manil Suri, who penned "The Age of Shiva" and "The Death of Vishnu."
Erin McKean, author of "That's Amore!" and "Totally Weird and Wonderful Words," returned for a third year as master of ceremonies at Literary Sojourn.
"It's a very special event," Steamboat Springs resident Courtney Famulare said, waiting in line for a post-Literary Sojourn poolside book signing. "The authors gave us a really good compliment, saying this is one of the warmest communities they've ever been in."
Fowler also spoke on the experience of having "The Jane Austen Book Club" adapted into a film.
All book people know that going to see a film adaptation of a book you love is "treacherous," and Fowler said she reacted with outrage to previous Jane Austen adaptations and expected her book would be no different on the big screen.
"I rushed to the movie very quickly in order to despise it with every fiber of my being," she said. In the end though, she found the film adaptation "perfectly charming."