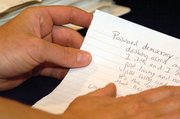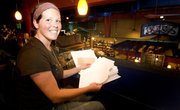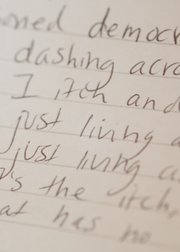 Steamboat Springs — When she's preparing to read her poems to a coffee shop crowd, Janel Moore likes to recreate the store's ambience at home.
"I kind of practice. I have a spare bedroom in my place, so I'll go in there with a glass of wine and sit for two hours and practice, and drink wine," Moore said. It might be unorthodox, but Moore's process of reading her words aloud to check for flow and emotion coaches her for Thursday's poetry slam at Off the Beaten Path.
Paging through a binder packed with loose pages of completed poetry in the store Friday, Moore explained the performance approach she takes to sharing her work.
"I try to listen to myself, and try to hear if I'm hesitating," Moore said. "I like to see if I hesitate with any of the lines, or if there are parts of it that just don't make much sense when I read them out loud."
Winning a poetry slam is about winning the audience, said Kari Sandvig, events and advertising coordinator for Off the Beaten Path. Those who get listeners involved, upset or inspired usually fare the best in a competition judged by randomly selected spectators and audience applause, she said.
Finding a voice
For Moore, getting crowd members to listen is a matter of passionate delivery. Her recent poems tend to go over better because she is more likely to be emotionally invested in their subjects.
"It's a little like acting, putting the drama into it," she said. A frequent poetry slam winner during her four years working in the bakery at Off the Beaten Path's former Seventh Street location, Moore said not all of her work is prime for public reading.
"Like this one - I really like this one, but it's so dense," she said, pulling a sheet out of her binder. "There are so many words that are so dense that you just can't string them out; they don't have any rhythm to them or anything."
While winning the poetry competition is fun, the slam acts primarily as a way for local writers to share their work with an enthusiastic audience. John Wilkinson, who won the bookstore's summer slam, said winning is nice - but it's not something he intended to do at his first public reading in Steamboat.
"You know, I don't see it as a competition," Wilkinson said. "I think it's just nice to have your ideas heard. There's a lot of really creative people in Steamboat, and I think it's nice that the bookstore offers that (outlet)."
With a style of writing he describes as "Shel Silverstein meets Edgar Allan Poe meets Hunter S. Thompson," Wilkinson's recent work focuses on the changing face of Steamboat Springs. Poems on the subject earned him a spot as emcee for Thursday's event. As much as the slams are an opportunity to hear other people's work, they are a chance to get personal projects out in the open, he said.
"Poetry is obviously meant to be read, I think, and read aloud, because I think the author has an intention when they write it," Wilkinson said. "Good poetry should elicit emotion. After you read it, you should feel sad or angry or something. And when someone reads it aloud, it puts the force in it (that is) intended when you write it."
Creating an outlet
Providing an opportunity for poets of all ages, backgrounds and experience to read their work is the focus of an Off the Beaten Path poetry slam. But creating a lively atmosphere is a close second, said store manager Debbie Hoing.
"Audience participation is encouraged and critical," Hoing said. "This is an event not just for poets, but for people who want to listen to poetry, as well."
Having a welcoming environment to perform her work is important to Moore.
"Just like some people like to perform music - even if it's not for competition, I enjoy having an outlet, instead of just writing and having it sit in notebooks," she said. Because of its sparse nature - long or prose-like poems don't necessarily do well in live readings - poetry can have a powerful impact on an audience, Wilkinson said.
"That's what I like about poetry: it's pure. It's writing in its most distilled form, because it's just thoughts spilled onto the page," he said. "When you write poetry, it's like, here's the heart meat."
- To reach Margaret Hair, call 871-4204
or e-mail mhair@steamboatpilot.com