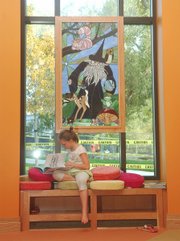 Steamboat Springs — Gone are the days of a shush-filled library filled with dusty volumes and dim lighting.
In its place is the Bud Werner Memorial Library's bright, new building with space designed to fit the needs of children and teens: space that is active, high-tech and, occasionally, loud.
The children's area of the new library is filled with color, big windows and 2,000 new books arranged in bookshelves that gradually get taller as the reading level grows more difficult.
The space is three times larger than the children's area in the old building.
"Three times more space was not really for new collections; it was to give parents and children more comfort, more space," said youth services librarian Currie Meyer.
At the end of the row of bookshelves sits a special story-time room, partitioned off from the rest of the building with a glass divider. Small cushions are stored near the room's edges for children to use during the weekly story-time sessions on Tuesdays and Wednesdays.
"It's a great way for kids to focus, because it's not surrounded by books, and there's less (foot) traffic," Meyer said. In the old building, story time was near ringing phones and children sat next to bookcases, creating diversions.
The remote area also prevents story-time from distracting the rest of the library patrons, Meyer said.
"We had the full intention this would be the boisterous, social, noisy place," Meyer said about the children and teen areas.
The technology also has been upgraded with child-friendly computers that use brightly-colored keyboards, playful mouse tools and pre-installed educational software.
Beanbag chairs and a new "interactive, literary-based" piece of furniture, in the shape of an "m," allow children to play while parents can sit and read parenting magazines and books nearby.
"I love the colors, and the areas for kids to read is great," said Kim Miles, who visited the library last week with her 7-year-old son, Ricky. "It's wonderful ... and I haven't been disturbed by kids" in other parts of the library.
A place for teens
The new teen area was designed with the help of two teen focus groups that chose color schemes and funky furniture.
"Teens volunteered time and spoke with the building architect, who asked them, 'What do you want it to feel like, and what do you not want it to feel like?'" Meyer said.
It is designed to be a social space, divided from the rest of the library collection, to allow teens to talk to one another.
"It's a place to come ... meet your friends, or hang out or whatever," said Alison Lambart, teen services associate librarian.
The new teen area has chairs shaped like reclining people and a bank of computers for teen use.
There also is a special project room with glass doors that can be closed for group work. The walls are covered in whiteboards, allowing teens to collaborate.
"Everybody seems like they've really been enjoying the space," said Lambart. "The computers are full."
Although the teen area is not specifically reserved for teens, a sign requests that other patrons use the computers and seating areas upstairs in order to create a place teens feel comfortable, Meyer said.