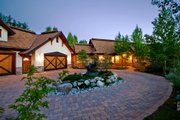 Steamboat Springs — Everywhere they've lived in Colorado, Heidi Henry and her family have prized their privacy and also looked for the opportunity to live in close proximity to a live creek.
In Telluride, they lived adjacent to the San Miguel River, and in their new home in Storm Mountain Ranch, they look forward to living along Wal-
ton Creek. Their current home on Meadowbrook Circle offers privacy within a couple of minutes of downtown, and they have both Fish Creek and the luxury of a startlingly realistic re-circulating creek that feeds a pair of multi-tiered waterfalls.
The waterfalls make music of their own.
"It's a nice thing to wake up to," Henry said. "It gets your day started. We're going to miss this back yard."
The Henry home is listed for sale for $3.1 million with Colleen de Jong of Prudential Steamboat Realty. It comprises 5,343 square feet on a nearly 1-acre lot and has six bedrooms. There is a mother-in-law suite with its own doorway onto the creeks and the densely landscaped yard.
Built by David Josfan, the house has vaulted ceilings, a three-car garage with ample storage and a main-level master bedroom.
It is priced at just more than $580 per square foot. De Jong said that when the value of the large secluded lot is factored in, the structure is a relative value in its price range.
Building lots in subdivisions that are comparable to Mountain View Estates are priced in the $700,000 to $1 million range, she said.
"There's no way you could replace this house" for the asking price, she added.
De Jong said she compared the home to others in nearby Stonebridge, Elkins Meadows and Sanctuary subdivisions.
"For people who say, 'I want to be close in, and in a home of 4,500 square feet or more in an upscale neighborhood,' there are 10 on the market and half of those are priced at $4 million or more," de Jong said.
The location of the Henry home, just off North Steamboat Boulevard, allows vehicular access to the ski area without the need for driving down Fish Creek Falls Road to U.S. Highway 40, she pointed out.
Among the appealing features of the home is a circular driveway on brick pavers that makes a grand entrance for guests.
The home is almost invisible from Meadowbrook Circle, but it wasn't always that way, Henry said. When she and her husband, Shafer, purchased the home, the front yard was primarily a grass lawn. They planted it with dozens of trees, which are flourishing now.
Heidi Henry is a gardening enthusiast who enlisted the professional assistance of Windemere Landscape and Garden Center to reduce the amount of irrigated turf on the property and convert it to a less thirsty species of grass. In other places, large pieces of the lawn were taken out of grass and given over to trees and bark.
"We like a low-maintenance yard, and our other goal was to ensure lots of color (in the form of flower beds) in spring, summer and fall," Henry said.
Another thing about those waterfalls at the Henry home: They shut down automatically every evening to save energy until an automatic timer turns them on again, just about the time the family is ready to start its day.