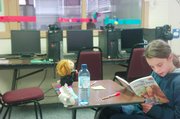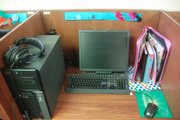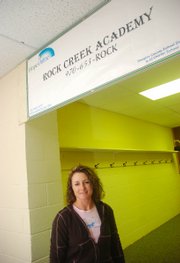 McCoy — During the summer, Kendra Thompson went from having dozens of classmates at Soroco Middle School to being the sole eighth-grader at Rock Creek Academy.
"The biggest difference is the size of the classes," said Kendra, a student at the recently opened charter school in McCoy. "I think it's pretty cool that I'm the oldest."
The tiny school's initial enrollment of seven students, spread across nine grades, is lower than organizers originally hoped, but the students - and their parents - are thrilled with the one-on-one attention it facilitates, Rock Creek Academy Director Dawn Mutchelknaus said.
The school's lower elementary students joined teacher Becky Ingle at a semi-circle table Friday morning as they worked on grade-level assignments with help from Ingle to sound out tough words.
"They're all one big group. The kids don't really differentiate themselves," Mutchelknaus said. "The tough part is for the teacher. If it's art time, she needs seven different art projects."
Parents and other area residents credit the success of their grass-roots effort to community dedication. Mutchelknaus said continued local support will keep Rock Creek Academy going.
"People will drive by really slow. : They want to see what's happening," Mutchelknaus said. "This is the biggest thing to happen here since the school closed in 1991."
From dream to reality
What began as a cooperative homeschooling movement for families in McCoy, Burns and Bond, spurred during a community Halloween party in 2007, now is a full-fledged charter school more than a month into classes.
Rock Creek Academy is leasing the building formerly occupied by the McCoy Public School, which was closed by Eagle County Schools in 1991 when student demand became insufficient to justify the costs of operation. Since then, children living in the communities straddling the Routt-Eagle county line have enjoyed school choice, commuting to Eagle County or South Routt schools.
"The (Eagle) buses still pull up out here, and those kids are getting on at quarter to seven in the morning," Mutchelknaus said.
Many area parents initially were interested in a local charter school not because of qualms with the education their child was receiving elsewhere, but simply because of the distance, Mutchelknaus said.
In June, charter school organizers were optimistic that they could start school in the fall with about a dozen K-3 students.
Rock Creek Academy's initial enrollment is seven students in K-8, in part because of not receiving the required memorandum of understanding from Eagle County Schools until Aug. 13 - twelve days before starting classes.
"A number of interested families had already committed their children elsewhere for the school year," Mutchelknaus said. "We expect to double or even triple enrollment next year."
It took only minor renovations to get the classroom space ready for the first day of school.
"Most of what you see here is fresh paint and new carpet," Mutchelknaus said.
Rock Creek Academy also received donations of desks and other furniture from schools in Kremmling and Yampa.
"It kept us from having to purchase really anything," Mutchelknaus said.
While the classroom spaces are fresh, with computer workstations available and classwork displayed on the walls, renovations to the rest of building have been under way since August and include a new roof. The facility will continue to function as a community center for the McCoy area.
New playground equipment is on Rock Creek Academy's future wish list. Only swings and merry-go-rounds remain from the facility's previous school days - the other surviving equipment was "uninsurable" and had to be removed, Mutchelknaus said.
Textbook-free teaching
For the 2008-09 school year, Rock Creek Academy is operating through the online charter school Hope Online Learning Academy Co-Op, which has its charter through the Douglas County School District.
Hope originally focused on community-partnership charter schools on the Front Range, but in 2006 began expanding its reach to rural areas by chartering a school in Dinosaur formerly overseen by the Moffat County School District.
"The mission of Hope is to give online access to learning, an education for kids that otherwise wouldn't have access," Hope President Heather O'Mara said.
The biggest difference between Hope learning centers and traditional schools is that all the textbooks and curriculum are electronic.
"You won't see our kids hauling around textbooks. Everything they need is on the computer. If they need to take it home, they print it out," Mutchelknaus said.
"This is a trend that's just slow in coming," she said. "It enables the kids to do their work wherever they can log on."
Mutchelknaus praised the support of the community in getting Rock Creek Academy up and running, and continuing to enrich the students' experiences. As she spoke, parent volunteers began arriving to cook a hot lunch, as they do every Friday.
"We haven't had to ask for anything. I didn't have to solicit a penny," Mutchelknaus said.
"The parents are the reason the learning center was able to get started," O'Mara added.
Enrollment is not the only thing poised to grow at Rock Creek Academy.
"We don't have a board yet; we don't have a PTA yet," Mutchelknaus said. "We will get to the point of needing a bigger structure to run this school."