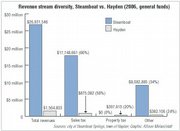 Pros and cons to Steamboat Springs of a property tax
Pros
- Non-resident homeowners would make a more substantial contribution toward city services.
- If used as a revenue-neutral trade for sales tax on groceries and utilities, a majority of residents, lower income homeowners in particular, would pay lower taxes overall.
- The revenue is very predictable and stable. It would increase over time as more homes are built and property values increase, although Colorado's Taxpayer Bill of Rights restricts the rate of increase.
- Businesses that currently pay relatively little tax to the city, and which benefit from city expenditures to promote tourism and business, would contribute more.
Cons
- The ratio between commercial property tax rates and residential rates is currently almost 4-to-1, and the disparity can only increase throughout time.
- To change tax ratios is beyond the control of local voters; it will require a change to state law approved by a majority of all voters in Colorado.
- Since 55 percent of sales tax currently is paid by non-residents, a revenue-neutral exchange of property tax for sales tax will transfer more of the total tax burden to city residents and businesses.
Source: Report of the Steamboat Springs Tax Policy Advisory Board, Feb. 1, 2005
By the numbers
Property tax that would be required to raise different percentages of Steamboat Springs' general fund revenues*
Revenue: $1.4 million (5%); Levy**: 2.06 mills; Annual tax on $100k residential: $16.40; Annual tax on $100k nonresidential: $59.74
Revenue: $2.7 million (10%); Levy**: 4.12 mills; Annual tax on $100k residential: $32.80; Annual tax on $100k nonresidential: $119.48
Revenue: $4.1 million (15%); Levy**: 6.18 mills; Annual tax on $100k residential: $49.19; Annual tax on $100k nonresidential: $179.22
Revenue: $5.5 million (20%); Levy**: 8.24 mills; Annual tax on $100k residential: $65.59; Annual tax on $100k nonresidential: $238.96
Revenue: $6.9 million (25%); Levy**: 10.3 mills; Annual tax on $100k residential: $81.99; Annual tax on $100k nonresidential: $298.70
*Based on city of Steamboat Springs 2008 budgeted revenues of $27,394,915 and city's assessed valuation of $664,744,690
**1 mill equals .001, or, 1 cent of tax per every $100 of assessed valuation
Sources: city of Steamboat Springs 2008 Adopted Budget, Routt County Assessor's Office
By the numbers
Colorado municipalities without a property tax
City/town Population (est.)
Montrose 16,000
Steamboat 11,000
Lone Tree 8,600
Delta 7,700
Silverthorne 3,800
Orchard City 3,100
South Fork 670
Starkville 139
Sawpit 35
Source: Colorado Municipal League
By the numbers
Sources of municipal tax revenue (2004, statewide)
Total tax $2,576,657,705
Property tax $433,820,003 (16.8%)
Sales/use tax $1,816,164,575 (70.5%)
Source: Colorado Municipal League
Steamboat Springs — Jon Quinn is waging a lonely war.
For about a year, the first-term Steamboat Springs City Councilman periodically has raised the issue of a city property tax. Sometimes he does it under council members' reports at the end of City Council meetings. Sometimes he floats the idea during budget discussions. Sometimes he reaches for connections to other subjects.
Almost always, the suggestion is met with a cool response, if any.
But in the face of tough city budget discussions, a weakening national economy and an expected decline in the city's main source of revenue - sales tax - now might be the time for Quinn to find some allies.
"There's only so much the city of Steamboat can do to get people to come here and spend money," Quinn said Tuesday, referring to the city's heavy reliance on sales tax, which in the 2008 budget was projected to make up 71 percent of general fund revenues and 44 percent of total revenues. "The course that we're on is not sustainable. I just don't see a sales tax alone being able to sustain our city."
Out of 271 Colorado municipalities, Steamboat is one of only nine that don't levy a citywide property tax - although, through its urban renewal authority at the base of Steamboat Ski Area, the city does collect property tax above a base amount to fund improvements in that area. Of the other eight municipalities, only Montrose has a larger population than Steamboat.
"Very definitely, you're in the vast minority," said Sam Mamet, executive director of the Colorado Municipal League. "Property tax is a more stable revenue source than sales tax. Sales tax can be volatile from one year to the next depending on economic conditions. (Property tax) insulates, to some extent, from the volatility of the sales tax."
Or, as town of Hayden Finance Director Lisa Dowling put it, "Property tax is a given."
City Council President Pro Tem Cari Hermacinski, who helps prepare council agendas with City Council President Loui Antonucci, said the elected body wouldn't discuss a property tax until Quinn has more support from fellow council members to do so. But, even if Quinn had the full support of council, a citywide property tax would require the approval of voters who have shown little appetite for property taxes in recent years.
Last year, a proposed $34 million recreation center that would have been funded by city property taxes failed miserably when nearly 80 percent of city residents voted against it. Also last year, a Routt County proposal to raise property taxes and fund road improvements failed by a 2-to-1 margin at the polls. In 2003, voters turned down a property tax dedicated to fire and ambulance services for the second year in a row.
"There's no question there's going to be huge resistance to it," Quinn said. "It will definitely be a fight."
Steamboat attorney Vance Halvorson said he would oppose efforts to impose a property tax. Halvorson said that if the city simply would learn to save better when sales tax is high, it wouldn't need to consider additional taxes when times are tough.
"It seems to me we do have a relatively stable revenue in sales tax," Halvorson said. "It's quite easy to spend when taxes are flush rather than save for a rainy day. I think if they properly manage the reserve account, they wouldn't need additional taxes."
Looking back
Interim City Manager Wendy DuBord said the idea of a city property tax rears its head every couple of years. In April 2004, the city seated a Tax Policy Advisory Board comprised of 12 citizens to take a comprehensive look at the city's tax structure.
"No other revenue source was subject to more discussion by the TPAB than property tax," the board's Feb. 1, 2005, report states.
Although it offered recommendations for future shortfalls, the Tax Policy Advisory Board did not recommend any changes to the city's tax structure. The advisory board toiled under the administration of former City Manager Paul Hughes. Hughes said last week that he didn't necessarily agree with the board's "if it ain't broke don't fix it" conclusion.
"It's just a matter of time before it does break," Hughes said Wednesday. "Most places in Colorado do not have all their tax eggs in one basket."
Hughes said he likes to tell his "fractured fairy tale" about a little town in the mountains that decided it would have all the skiers pay for everything. The problem now, Hughes said, is that the population of Steamboat has exploded, especially when you include second-home owners, while there has not been a proportionate increase in the number of tourists.
"These individuals who own these second homes are not paying for those services that are required for them," Hughes said.
Quinn agrees.
"That argument doesn't work for me any more," he said of the notion that the cost of running the city is shouldered by visitors. "Every time somebody buys a home, it costs the citizens of Steamboat Springs money whether or not that person stays in Steamboat Springs and pays sales tax year round."
Hughes said that if the idea behind taxes is that they should be collectable, fair and progressive, city taxes fall short on two of three measures. They're not fair, Hughes said, if there's a large segment not paying anything. And the Tax Policy Advisory Board noted that sales tax is indeed the opposite of progressive.
"By definition, sales tax is inherently regressive in that poorer residents pay a higher percentage of their income in taxes than wealthy residents, especially when the tax is applied to basic needs such as groceries, clothing and utilities," the board's report states.
Looking forward
Quinn said he has a number of ideas to address the concerns that would accompany a property tax. He thinks a property tax would be more palatable if it went toward a specific project or purpose, rather than the city's general fund.
"I'm not sure the citizens of Steamboat are ready for a general property tax," Quinn said. "And the last thing that the elected body wants to do is make it harder for people who work here to live here."
To address that problem, Quinn said a property tax would have to be accompanied by a reduction in sales tax or an exemption for full-time residents of the city. Both ideas raise concerns of their own. Asked if there would be a legal way for the city to enact a property tax that exempted full-time residents, Department of Local Affairs property tax specialist Greg Schroeder said, "No. There wouldn't."
"The mill levy has to be uniform on all taxable property," Schroeder said. "A local government can enact an exemption for personal property, but not real property."
Officials were less certain on whether the city could get around this roadblock by offering its primary residents a property tax rebate.
"Regarding a property tax rebate to resident property owners, we're not aware of anything expressly authorizing or prohibiting it," Linda Rice, department spokeswoman, wrote in an e-mail.
Mamet said such a program might be challenged under the Equal Protection Clause of the 14th Amendment of the U.S. Constitution.
"That one could be tricky legally," he said.
As for reducing sales tax in conjunction with a property tax, former City Council President Paul Strong said that might not be wise. Strong said that, although sales tax is projected to be down this year, it historically has increased rapidly. A state law that limits revenue growth would restrict a new property tax from similar gains.
"To fund our government operations with a property tax, I think you have to give up sales tax to do it," Strong said. "I don't see any other way you can do it politically. : Historically, that would be a bad decision."
If voters exempted a city property tax from the statute, known as the Taxpayer Bill of Rights, or TABOR, Strong said it would raise the new concern of possibly pricing people out of their homes. Routt County residents have exempted several local taxes from TABOR, and when a 2007 reappraisal saw the county's assessed valuation jump 34 percent, Strong, an accountant, said some of his clients' property tax bills doubled and tripled.
Furthermore, another state law known as the Gallagher Amendment places a disproportionate property tax burden on nonresidential property. Although a residential property's value is assessed at 7.96 percent, nonresidential property is assessed at 29 percent.
"The tax burden on businesses is a significant issue," Quinn said. "The success of Steamboat in the future is not going to be based on how many tourists it can attract, but how many good businesses and good employees it can attract. Driving away businesses is the last thing we want to do."
Stoking the debate
Finance Director Lisa Rolan said the city's Finance Department does not have an opinion on property tax specifically.
"I think, at some point, the city is going to have to diversify its revenue," she said. "I think the economy is going to take a turn for the worse, and sales tax is going to decline."
DuBord agreed but said there are steps the city would take before it considers a property tax or any new source of revenue.
"We plan to take a hard look at those taxes and fees we currently have," DuBord said. "The first step is to make sure you're maximizing your current sources of revenue."
The earliest Steamboat Springs could get a tax proposal on the ballot is 2009, but Quinn doesn't want to wait to get the debate started.
"I don't think our sales tax can keep up with our growth in expenditures," he said. "It's important that we address this issue sooner than later."