Early voting
For the general election, early voting will take place from Oct. 20 to 31 in Steamboat Springs, and on Oct. 25 in Hayden and Oak Creek.
Routt County Courthouse Annex, 136 Sixth St., Steamboat Springs
- Oct. 20 to 24, 8:30 a.m. to 4:30 p.m.
- Oct. 25, 8:30 a.m. to 4:30 p.m.
- Oct. 27 to 31, 8:30 a.m. to 6 p.m.
Hayden Fairgrounds Exhibit Hall, 398 S. Poplar St., Hayden
- Oct. 25, 8:30 a.m. to 4:30 p.m.
Oak Creek Town Hall, 129 Nancy Crawford Blvd., Oak Creek
- Oct. 25, 8:30 a.m. to 4:30 p.m.
For more
Find comprehensive information on local and regional elections, ballot issues, polling locations and voting times in the Steamboat Pilot & Today's 2008 Election Guide, to be published with the newspaper Oct. 10 and Oct. 24.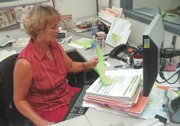 Steamboat Springs — Routt County residents have just more than a week left to register to vote for the fast-approaching Nov. 4 election.
People have until Oct. 6 to register to vote in the general election. Voters who already are registered must meet the same deadline if they need to update their addresses or make other corrections to their voter registration.
Although she said procrastinating is "human nature," Routt County Clerk and Recorder Kay Weinland asked that people be proactive and register sooner rather than later, and vote as early as they can.
To limit long lines at the polls on Election Day, two weeks of early voting will be conducted in Steamboat Springs next month.
"The first week is usually slow; the second week is extremely busy," Weinland said.
"If you're going to vote early, you need to vote as early as you can in that process."
Saturday early voting will be available Oct. 25 in Steamboat Springs, Hayden and Oak Creek.
Routt County landed on the state's Election Watch List in 2007, after long lines and difficulties with the county's new electronic voting machines delayed voters for as many as four hours during the November 2006 election. After a revamp of county voting procedures - including a return to precinct-based polling locations and the availability of paper ballots - Routt County was removed from the list in July.
In the upcoming general election, Routt County voters will have the opportunity make their selections for president, U.S. Senate, U.S. Congress, state Senate, state House of Representatives, state Board of Education, district attorney and county commissioners. Voters also will be able to cast ballots for judicial retention and weigh in on 18 state amendments and referendums. Steamboat Springs residents can opt to renew the city's half-cent sales tax for education.
"The length of the ballot is pretty traumatizing, actually," Weinland said.
Because of the large number of items on the ballot, Weinland recommended that voters do their homework before arriving at the polls. Information about the state's amendments and referendums is available under the Secretary of State's Web site, www.GoVoteColorado.com.
Voter registration forms and sample ballots are available online at www.co.routt.co.us/clerk, at the Clerk and Recorder's Office in the Routt County Courthouse, and in the county Elections Office at 624 Lincoln Ave., behind Rocky Mountain Chocolate Factory.
Voter registration forms and information also are available at City Market, as part of the joint election efforts of the Routt County Democratic Party, the local Barack Obama campaign office and Forward Colorado, said Lynn Abbott, communications director for the Routt County Democrats. The Routt County Republican Central Committee may plan future voter-related events at its meeting next week, Chairman Vance Halvorson said.
In the 2004 presidential election, 92 percent of active registered voters in Routt County cast ballots - higher than the state average of 89 percent, Weinland said.