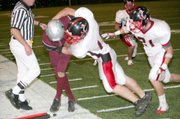 Game statistics
First Downs: Steamboat 7; Palisade 15
Rushes-Yards: Steamboat 25-64; Palisade 55-344
Comp-Att-Int: Steamboat 13-23-0; Palisade 4-7-0
Yards Passing: Steamboat 81; Palisade 74
Total Yards: Steamboat 145; Palisade 418
Punts-Avg.: Steamboat 7-32; Palisade 3-34
Fumbles-lost: Steamboat 4-1; Palisade 4-1
Penalties-Yards: Steamboat 8-55; Palisade 11-73
SCORE BY QUARTERS
Steamboat: 00-00-07-07-0
Palisade: 16-09-07-07-0
SCORING SUMMARY
- First Quarter
P: 11:35, Matthew Young 42 pass from Jake Appling. (Travis Fehlman kick).
P: 9:38, Safety.
P: 8:22, Aaron Wagler 41 run. (Fehlman kick).
- Second Quarter
P: 3:04, Wagler 41 run. (Kick fail).
P: 0:02, Cody Blackmon 24 field goal.
- Third Quarter
S: 7:52, Alex Wood 3 pass from Austin Hinder. (Jasper Gantick kick).
P: 1:58, Appling 1 run. (Fehlman kick).
- Fourth Quarter
P: 6:32, Fehlman 25 run. (Fehlman kick).
S: 3:25, Fraser Egan. (Gantick).
INDIVIDUAL STATISTICS
- Rushing
S: Egan 5-66, 1 TD; Hinder 12-(-20); Joe Dover 6-10; Dustin Siegiel 2-9.
P: Wagler 17-172, 2 TD; Appling 14-43, 1 TD; Fehlman 21-122, 1 TD; Jason Logsdon 3-7.
- Passing
S: Hinder 13-23-0, 1 TD, 81 yards.
P: Appling 4-7-0, 1 TD, 74 yards.
- Receiving
S: Charles Wood 1-3; Cody Harris 1-24; Dover 7-33; Alex Wood 2-8, 1 TD; Jack Spady 1-3.
P: Young 3-67, 1 TD; Zach Adair 1-7.
Grand Junction — If there were any questions about how good the Palisade High School football team is, they were quickly answered in the first four minutes of Thursday's game against Steamboat Springs.
Palisade scored two touchdowns and recorded a safety before the first quarter hit the halfway point on way to a 39-14 rout of Steamboat.
"Watching them on film, they're a great team," said Palisade running back Aaron Wagler, who, despite a broken right hand, ran the ball 17 times for 172 yards and two touchdowns. "If you want to become great someday, you've got to overcome adversity. That was our mindset. We knew we could get beat by this team, so we just had to come play Palisade-tough football. Do what we do best and hit them and hit them and hit them."
Palisade certainly played its brand of football.
After just six plays on offense, the Bulldogs (6-0 overall, 4-0 in league play) already had two touchdowns. The first came when Palisade quarterback Jake Appling found Matt Young on the second play from scrimmage. The second was on a 41-yard Wagler run over the left side. Add in a safety on Steamboat's first offensive possession, and Palisade was up, 16-0, with 8 minutes, 22 seconds left in the first quarter.
The Bulldogs continued to pour it on in the second quarter. Wagler scored again from 41 yards out late in the second quarter, and Cody Blackmon added a 24-yard field goal with 2 seconds left in the first half to put Palisade up, 25-0.
As impressive as the Bulldog offense was, it might have been their defense that made the biggest statement.
In eight Steamboat first-half possessions, the Sailors had five three-and-outs, a turnover and a one-play drive to end the half. All told, Steamboat gained 15 yards, including minus-14 yards rushing.
"Palisade is a very good football team and played very well (Thursday)," Steamboat coach Aaron Finch said. "The team that played better won. The team that's worked harder this year won. This is an opportunity for us. Great teams expose your weaknesses. We haven't had our weaknesses exposed in ways you can see this year. It got my attention, and hopefully it gets our guys' attention."
Steamboat (4-1, 3-1) finally got on the board midway through the third quarter when junior Dustin Siegiel stripped Palisade quarterback Jake Appling, giving the Sailors the ball on the Bulldogs 26-yard line. Five plays later, Austin Hinder found Alex Wood from 3 yards out to cut the lead to 25-7.
But on the next drive, Palisade showed why it's one of the top teams in the state. The Bulldogs used 14 plays - all runs - and almost six minutes before Appling took the ball in from a yard out to push the lead to 32-7.
Palisade senior Travis Fehlman - who gained 122 yards on 21 carries - put the game away for good midway through the fourth quarter with a 25-yard scamper to give the Bulldogs a 39-7 lead.
Steamboat junior Fraser Egan scored late in the fourth quarter from 2 yards out to put the score at 39-14.
Finch called the loss a wake-up call for his team. With the season at its halfway point, Finch said he still is confident the Sailors can get things going again and become a dangerous team.
He said you only have to look at four years ago, when Steamboat lost at Palisade, 29-0, before barely falling to Rifle in the state semifinals.
"That year, we lost in the state semifinals and became a very good football team," Finch said. "We have to put the work in starting (today). I'd rather lose now than in November. This could be a positive thing for us. I think we have the kind of kids that have the pride in what we're doing to turn this into an opportunity to do good things."