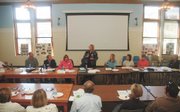 Steamboat Springs — State Senate candidates Ken Brenner and Al White agreed on nearly all of the major issues affecting children during a Wednesday forum hosted by First Impressions of Routt County.
State Rep. White, R-Hayden, and Brenner, a Steamboat Springs Democrat, said they support Amendment 59, also known as S.A.F.E. If passed by voters in November, the amendment would allocate a "rainy day" reserve for Colorado schools in times of economic slowdown.
White expressed reservations about management of the fund.
"I'm torn on this. I will probably vote for it, but I'm torn," White said. He said he was concerned because the money only could be used if there were a two-thirds vote by the state Legislature to allocate money.
Brenner said he had no problems with the amendment.
"It's the easiest decision on the ballot to support 59," he said.
Three other candidates - all Democrats - attended the forum, which included a series of questions regarding funding and their positions on a series of youth-oriented laws posed by the group of early childhood advocates, parents and volunteer workers.
Todd Hagenbuch, of Phippsburg, a candidate for the state House District 57; Tammy Stewart, of Steamboat, a candidate for 14th Judicial District attorney; and Jill Brake, of Pueblo, a candidate for the state Board of Education, all appeared without their rival candidates to express their view for the future of early childhood education and care.
All three supported Amendment 59.
All five candidates Wednesday said they do not support Amendment 48, the so-called "personhood" amendment that would define the term "person" to extend to the moment of fertilization.
White said he is pro-life, but he opposes the amendment because the fertilized egg does not have to be implanted to be considered a person.
"I don't think you can have an abortion until there is a viable pregnancy," he said.
Brenner said he opposes the amendment because polls show Coloradans support choice, and it raises too many potential legal challenges.
"We would be sorting this out (in the courts) for decades," he said.
The candidates also wrestled with funding questions, again agreeing that education is under-funded in the state.
White, a member of the Legislature's Joint Budget Committee, said state government typically allocates more money to education by removing it from areas that elicit less sympathy, such as the Department of Corrections.
Brenner said he did not want to accept the typical approach of moving money from one program to another to solve budget woes.
"If you want to see someone not satisfied with that vision, it's me," he said.