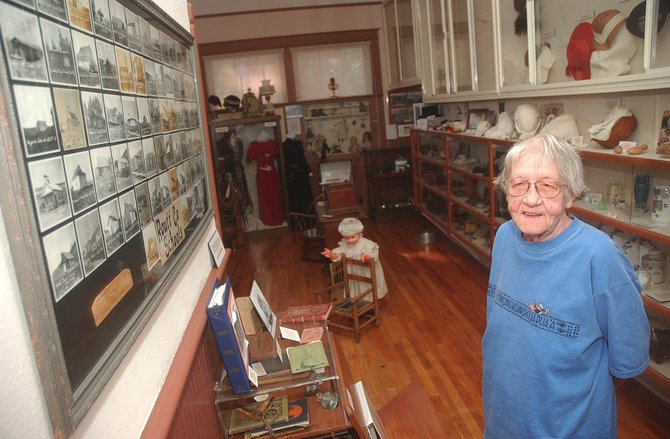 History buff mines town facts
Jan Leslie compiles volumes of information about Hayden
Thursday, September 25, 2008
Steamboat Springs — Jan Leslie spins tales of Hayden from memory, whipping out name after name and date after date, debunking local lore and pointing in all directions to the historical spots of her hometown.
Leslie has dug up most of Hayden's history, reading and rereading newspaper articles from across Routt County. She volunteers for the Hayden Heritage Center and has put together bulging binders of historical information.
"I just really like lists," she said. "I think that helps."
Leslie, 70, said she wasn't sure how she got into the history business. She started volunteering at the museum in 2005.
She has written two books: "Routt County Rural Schools, 1883-1960" and "Anthracite, Barbee and Tosh: The History of Routt County and its Post Offices, 1875-1971." Leslie's sister, Nadine, also is a history buff and has worked with her.
Jan Leslie's binders include personality profiles from the 1960s, information on Hayden High School graduates and histories of the main streets in town. The former fourth-grade teacher was born in Steamboat Springs but has lived in Hayden since 1943, except during college in Greeley and a stint in Yampa from 1961 to 1966.
Ask Leslie anything, museum curator Mary Pat Dunn said, and she has an answer.
"It's accurate," Dunn said. "If she gets it down, you can really count on it being well researched. That's just really valuable."
Leslie noted that her work isn't always 100 percent accurate because the newspapers aren't 100 percent accurate. Regardless, the Hayden Heritage Center's board is grateful to have Leslie, Dunn said.
"She scanned 600, 700 photos out of old newspapers, indexed them to make it easy for me to find them," Dunn said.
As information surfaces, Leslie said, she often has to revise her work. A couple of Hayden businesses, for example, were thought to have been on the eastern side of the street but turned out to have been on the western side.
"Once you put it all together and you find out your introductory sentence was wrong, you have to start over," Leslie said. "But it's fun."
Leslie is gathering information on Routt County school superintendents. Historical data is tough to verify, she said, adding that some beliefs about local history are false. James Crawford often is said to have been the first superintendent in the county, but he wasn't, she said. Crawford turned down the appointment.
A man known as Maj. Thompson took credit for founding Hayden, she said, but he didn't. He was a squatter who never filed on a homestead, Leslie said.
"It just didn't happen that way," she said.
Leslie's family has some Hayden history of its own. Her father, Truman Leslie, ran the local pharmacy for decades. And Jan Leslie lives with Nadine at Lincoln Avenue and Walnut Street, in what happens to be one of the oldest houses in town. It was built in the 1890s, she said.
Dunn said she has watched Leslie's work reinvigorate her. When Leslie started at the heritage center, she had trouble getting up the stairs.
Not anymore.
"She's getting really ornery and strong since she got here," Dunn joked. "She pops up the stairs with these books."