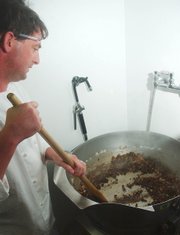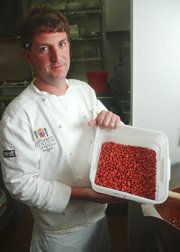 The Drunken Onion's Red Bean and Beef Chili
Ingredients:
1 large yellow onion, diced
4 jalapenos, sliced
2 tablespoons fresh garlic
2 tablespoons butter
2 teaspoons ground cumin
2 teaspoons dry oregano
1 tablespoon dry parsley
1 tablespoon onion powder
2 teaspoons garlic powder
1/4 cup dark chili powder
1/2 cup dry red wine
3 cups beef stock
1 large can red beans, rinsed
1 large can chopped tomatoes
1/2 cup Worcestershire sauce
2 tablespoons ketchup
1/3 cup brown sugar
1 1/2 tablespoons green Tabasco
1 1/2 tablespoons habañero sauce
1 lb. ground beef, browned and drained
1 tablespoon kosher salt
1 1/2 tablespoon ground black pepper
Saute the onion, jalapenos, and garlic in butter until soft. Add cumin, oregano, parsley, onion powder, garlic powder and chili powder to the onion mixture and stir through to heat. Pour in wine and deglaze onion and spice mix. Add beef stock, beans, tomatoes, ketchup, sugar, Worcestershire, Tabasco and habañero sauces, as well as ground beef; simmer chili lightly for 30 minutes. Stir in salt and pepper after simmering and adjust to taste. Remove chili from heat. Take 2 cups chili and blend thoroughly, then return to pot and stir.
Serve with grated cheddar, chopped onions and crusty bread.
French Open and Chicken Tortilla soups
Nancy Kramer's French onion soup
Ingredients:
1/2 cup peanut oil
6 large brown onions, chopped
1 teaspoon thyme
3 bay leaves
1 bottle dry red wine
10 cups beef broth
8 slices stale French bread
1 1/2 lbs. grated Swiss cheese
Heat oil in a large pot. Add onions and saute until cooked. Add thyme and bay leaves. Stir in wine. Bring to a boil, and let the soup reduce for a few minutes. Add broth and cook uncovered for 20 minutes. Divide soup into 8 ovenproof soup bowls, top each with a slice of bread and Swiss cheese. Broil until bubbling and serve immediately.
Melinda Dudley's Chicken Tortilla Soup
Ingredients:
Olive oil
1 large white or yellow onion
4 to 6 garlic cloves, minced
1 jalapeno
1 green pepper
1 red pepper
1/4 cup fresh cilantro, chopped
1 lb. boneless, skinless chicken breast
1 small package frozen corn
1/2 cup dry white wine
3 teaspoons cumin
2 teaspoons chili powder
1/4 teaspoon cayenne pepper
5 14 oz. cans chicken broth
2 14 oz. cans diced tomatoes
2 8 oz. cans tomato sauce
Saute onion, garlic, jalapeno, and peppers in olive oil until soft. Add cumin, chili powder, and cayenne pepper, and stir through. Add wine and deglaze. Add tomatoes, tomato sauce, corn, cilantro and broth, and stir well. Add in chicken breasts, and boil lightly for 15 minutes. Remove chicken breasts and shred. Return meat to the pot and simmer for 45 minutes.
Garnish with grated cheese and fresh cilantro. Serve with tortilla chips or strips.
As fall rolls into Steamboat Springs, the leaves are not the only things changing - lower temperatures also are shifting people's palates.
"It's almost automatic - the temperature hits 60 degrees, and people want soup," chef Ben Stroock said Friday, whipping up his red bean and beef chili in the kitchen of The Drunken Onion. "The colder the day, the more we put on."
"People aren't really into consommes this time of year," said Nancy Kramer, program coordinator for Northwest Colorado Products. "They're into hearty soups, clear soups and chowder in the fall."
"We'll get into some squash soups, pork green chili and probably some more chowders," Stroock said of his grab-and-go restaurant's planned expanded offerings.
Cooking tips
While Stroock readily admits he tends to make soups in considerably larger batches - 5 gallons in an industrial tilt skillet - than the average kitchen cook, some helpful hints make for better flavor, no matter the proportions.
"I add the dry spices before the liquid," Stroock said. "If you hit them with the vegetables and the oils, it kind of brings them back to life, as opposing to just boiling them with the stock."
For his chili, Stroock stirred his spices, including cumin and chili powder, into the sauteing vegetables, filling them with the complex flavors before adding in the meat, beans and sauce.
"You can smell how these just build up as they heat up," Stroock said.
For the many soups and broths with beans, budding chefs may find it easier to cook their beans separately, rather than boiling the dry beans in the soup itself, he said. Stroock uses canned red beans in his chili.
"It's too much of a pain to balance getting all of them cooked, without using all of your water," Stroock said.
There also is no shame in using canned ingredients, especially tomatoes.
"Canned tomatoes are canned when the tomatoes are at their absolute best, when they've got too many, too ripe, and they've got to get rid of them," Stroock said. "For consistency, you can't beat canned tomatoes."
Seasonal favorites
Although butternut squash soup is a common go-to fall dish, a host of other winter squashes already are available in Steamboat.
In addition to pumpkins, acorn, buttercup and Hubbard squashes arrived for the season earlier this month, said Katherine Zambrana of Sweet Pea Market.
The Yampa Valley's long, wet winter pushed back the arrival of some fall favorites. However, it's a tradeoff for local foodies, as the corresponding belated arrival of summer fruits means good peaches should be found on Steamboat's shelves until early November, Zambrana said.
"Everything's a little delayed this year," Zambrana said.
Soup Bowl Supper coming
Tickets already are on sale for the Steamboat Clay Artisans' eighth annual Soup Bowl Supper. Seatings will be at 5:30 and 7 p.m. Oct. 1 at the Steamboat Springs Community Center.
Advance tickets are $20 and are available at All That Jazz, Blue Sky Pottery and Partners in Routt County. Tickets will be $25 at the door, with proceeds benefiting Partners in Routt County.