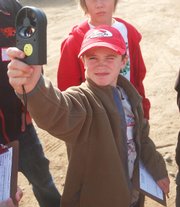 Steamboat Springs — Climbing steadily higher on Mount Werner, the weather conditions rapidly are shifting. The pressure and temperature are dropping as the wind speed increases. Thunder booms in the distance.
Fifteen students in Robin Bush's sixth-grade class from Hayden Valley Elementary School are experiencing the changes in mountain weather firsthand as they take temperature and condition readings while ascending to Storm Peak Laboratory.
The class was in the midst of a Thursday science lesson led by scientists from the Storm Peak lab. Using pricey equipment provided by the lab, the students measured pressure, temperature, wind speed and particles in the air.
"It brings what we're learning in the books alive," Bush said. "Unless you do it, it doesn't sink in. They would lose it."
This is the second year Bush's class has coordinated with researchers from Desert Research Institute's Storm Peak Lab.
"It's not often you get this kind of scientists to teach a class," she said.
A. Gannet Hallar, director of the lab, and Ian McCubbin, a staff research scientist, took turns giving the students lessons. When they made it into the Storm Peak lab, the researchers gave the students a tour and provided explanations about the equipment in the high-altitude facility.
The sixth-graders were in the second of three parts of a weather unit led by the Storm Peak scientists. Several students already had decided they wanted to work at the lab in the future.
"I want to be a scientist," said Dusty Earle, who actively answered questions during Hallar's presentation. "I liked everything about it."
Student Kole Miner said he, too, wanted to work in science. The lab was his first chance to see specialized equipment such as the portable particle counter Hallar used with the students.
Lisa Nelson, an interpretive naturalist from Yampatika who accompanied the student group, said the type of education the students received from the scientists on the mountain provide a unique opportunity.
"One of the things in our school system is, math and science are hard to relate to. But out here, it brings it home," she said.
When teachers sign up for the Storm Peak lesson, Nelson and one of the scientists first visit the classroom to introduce concepts. During the second section, students spend a day traveling up the mountain to take readings at a variety of locations. Finally, the group reconvenes in the classroom to graph the data and discuss what they learned.
The unit covers the difference between climate and weather and shows students how scientists take measurements and use data to draw conclusions.
"We actually see it. When we first visit them in the classroom, it's a lot of blank faces," Nelson said. "Out here, the light bulbs go on. ... They just get it."
- To reach Zach Fridell, call 871-4208
or e-mail zfridell@steamboatpilot.com