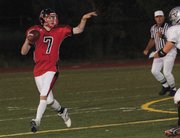 Game statistics
Steamboat 35, Eagle Valley 14
Eagle Valley Steamboat Springs
11 First Downs 16
38-148 Rushes-Yards 43-236
3-9-0 Comp-Att-Int 6-12-1
28 Yards Passing 170
176 Total Yards 406
5-34 Punts-Avg. 0-0
0-0 Fumbles-lost 2-1
5-45 Penalties-Yards 7-60
SCORE BY QUARTERS
Eagle Valley 06-00-08-00-14
Steamboat Springs 00-20-07-08-35
SCORING SUMMARY
First Quarter
EV - 4:12, John Crawford 1 run. (Kick fail).
Second Quarter
S - 11:08, Austin Hinder 8 run. (Jasper Gantick kick).
S - 6:16, Fraser Egan 1 run. (Gantick kick).
S - 0:57, Joe Dover 1 run. (Kick fail).
Third Quarter
S - 7:45, Egan 4 run. (Gantick kick).
EV - 1:15, Harrison Neal 2 run. (Ryan McClintock from Matt Miller).
Fourth Quarter
S - 8:31, Dover 47 run. (Dover run).
INDIVIDUAL STATISTICS
Rushing
EV: Trent Book 7-58; Matt Morgan 12-26; Crawford 5-5, 1 TD; Neal 9-61, 1 TD; Brian Carrillo 4-2; Rany McClintock 1-(-4).
S: Hinder 11-66, 1 TD; Egan 12-73, 2 TD; Dover 13-81, 2 TD; Cody Harris 1-8; Charles Wood 2-2; Dustin Siegiel 3-14.
Passing
EV: Morgan 3-9-0, 28 yards.
S: Hinder 6-12-1, 170 yards.
Receiving
EV: Neal 2-26; McClintock 1-2.
S: Harris 4-89; Dover 1-54; Nelson Brassell 1-15; Alex Wood 1-12.
It wasn't the best game the defense had played, and it wasn't the best game the offense had played.
But as a team, the Steamboat Springs High School football team put together its best and most complete game of the year Friday, downing Eagle Valley, 35-14.
And it couldn't have come soon enough with a date at second-ranked Palisade on Thursday.
"We're 4-0, and I'm finally happy," Steamboat coach Aaron Finch said. "We have that sense we put the pieces together. I could feel it coming this week. Our guys aren't stupid, and they watched the film and realized what a challenge Eagle Valley was going to be."
On both sides of the ball, the Sailors were efficient. The offense racked up 406 total yards, while the defense limited Eagle Valley to 176.
Still, the game wasn't decided until the fourth quarter.
After both teams had scored on long drives to open the half - Eagle Valley's took up 16 plays and more than six minutes off the clock - things started to look as if they were going the Devils' way.
Trailing 27-14 with 8 minutes, 41 seconds left in the game, Eagle Valley jarred the ball loose from Steamboat Springs senior Alex Wood.
The Devils had the ball on their own 47-yard line with a chance.
But that's when the Steamboat defense did what it has done all year.
The Sailors forced the Devils into a 3-and-out, including a sack by junior Mitchell Lekarczyk on third down.
On the first play of the ensuing drive, Steamboat's Joe Dover took the ball 47 yards over the right side to put Steamboat up, 35-14.
"Our problem through the year has been bad practices," Lekarczyk said. "This week we threw out some great practices and had a great game."
The Devils went 3-and-out on their next possession to eliminate any chance of some late game heroics.
The Devils enter the bye week 0-5 overall and 0-3 in Western Slope League play, and it's not hard to see why.
Eagle Valley played five ranked teams in Class 2A and 3A.
To date, none of Eagle Valley's opponents have a loss on their records.
"It will be nice to get a team on the schedule that's not ranked," Coach John Ramunno said. "We've had a tough schedule and hopefully it made us tougher. We got a week off to regroup. Then we take on Moffat (County) for homecoming. Hopefully, I can get them fired up for that."
Early on, Eagle Valley made it look as if the game would be close, like so many other times between the two league rivals.
John Crawford capped off a seven-play drive midway through the first quarter to give Eagle Valley a 6-0 lead.
But Steamboat roared back in the second quarter, scoring 20 unanswered points. Junior quarterback Austin Hinder got the Sailors on the board with a 14-yard scamper, before fellow juniors Fraser Egan and Dover added touchdown runs to give Steamboat a 20-6 lead.
Egan punched the ball in again on the Sailors' first drive of the second half, before Eagle Valley answered back with a Harrison Neal 2-yard run.
But that would be the last sustained drive Eagle Valley would complete the rest of the night.
"We have a hard time overcoming some of our mistakes," Ramunno said. "It's back to the drawing board for us. For us, it's consistency. We have to stay consistent."
Although Steamboat's happy it's 4-0 overall and 3-0 in league play, the Sailors can't get too high with Palisade next on the schedule. The Bulldogs have outscored their opponents, 172-52, through five games this year.
"They get off the ball, they're well-coached, and they do what they do," Finch said. "No doubt we have to play our most physical game of the year."
- To reach Luke Graham, call 871-4229 or e-mail lgraham@steamboatpilot.com