Photo Gallery
Mountain Film Festival for Sept. 19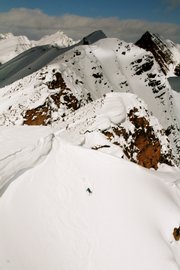 Film festival dates
¤ Oct. 3 through Oct. 5: Festival organizers will sell tickets to screenings at the Ski Haus ski sale. Tickets to each set of festival events are $10.
¤ Oct. 10: Film festival kick-off at the Steamboat Grand Resort Hotel, featuring Teton Gravity Research's "Under the Influence." 7 p.m.
¤ Nov. 21: Screenings of Rage Films' "Such Is Life," Rocky Mountain Sherpas' "The Fine Line" and Teton Gravity Research's "Out There." 7 p.m.
¤ Nov. 22: Screenings of all submitted films, and Rocky Mountain Sherpas' "Yes to the No." 3 to 6 p.m.
¤ Nov. 22: Award presentation for submitted films, and screenings of Matchstick Productions' "Claim" and Michael Martin Productions' "Walls."
For more information
The deadline for Steamboat Mountain Film Festival entries is today at 5 p.m. Entries for the Reel Open category can be any length and can take on any adventure-based topic. Entries for the Reel People category must include some aspect of an action sport (skiing, biking, etc.); films must be shorter than 25 minutes, and submissions must include a five-minute short of the full-feature. For a full list of guidelines and to print out an entry form, go to steamboatfilmfestival.com.
Mail contest entries to Steamboat Mountain Film Festival, c/o Festival Organizer Michael Martin, P.O. Box 882322, Steamboat Springs, CO 80488.
With seven feature-length films, two weekends of screenings and about 500 inches of filmed snow slated for this year's event, Michael Martin's work with the Steamboat Mountain Film Festival is starting to pay off.
"Most of it has been through word of mouth," Martin said of the festival, which this year has attracted four international action sport film submissions. "It's been a nice bonus after four years of pounding the pavement."
An event that started out as a way for Martin to show his own ski films, the festival has become a mud season tradition as it prepares for its sixth year. Submitted films can focus on action sports for the Reel People category, or be loosely related to some kind of adventure for the Reel Open category. Submissions for this year's festival are due at 5 p.m. today.
Martin, who directs the ski and snowboard business program at Colorado Mountain College, said he hopes a record-breaking snow year in 2007-08 ups interest in the festival.
"With the great snow we got last year, I'm expecting more (submissions)," he said, adding that his CMC students often make up a good bit of the submitted-films production pool. The festival takes up two weekends for the first time this year, with a night of professional action film screenings Oct. 10, and a weekend of professional and submitted screenings Nov. 21 and 22.
"We decided to break it apart to kind of include the shorts contest," he said, explaining that holding three consecutive nights of screenings could get complicated for people with families. "And it gives people a way, in a sense, to view more films."
Contest submissions tend to stick to the ski and snowboard film genre, Martin said, but a few entries in the past few festivals have taken on a documentary style. Martin's latest project, a ski film looking at the history of the Steamboat Ski Area, falls into that category. Martin said films submitted for the Reel People and Reel Open contests are judged with a professional eye.
"We look for creativity, first and foremost. And if it doesn't have a storyline, does it keep your interest? What are the quality of the shots and the quality of the editing?" he said. "They're looking at it from the standard of if you compare this to any other genre of adventure film, how does it measure up."
As he nurtures a lifelong obsession with ski movies, Martin said he's happy to see how his pet project has grown.
"Each year we make little adjustments. I think we've grown a really good fan base over five years, and that's really helped us."