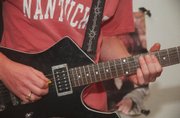 Jeff Barlow might be overstating the impact his band, String Board Theory, has on the people who hear them play. But he already knows that:
"If you're blind, you'll be able to see after you hear us. Probably. Maybe," Barlow said, sitting in the practice space set aside in his house for String Board Theory's instrumental jam sessions.
About a year into their time playing as a group, the guys in String Board Theory -Barlow (bass), Jeff Hayes (drums) and Tyler Kimball (guitar) - have made a name by delivering a fusion of jam music, funk, reggae and psychedelic rock. The band plays Saturday at Old Town Pub and has promotional appearances today on tv18 and KFMU.
"If you have to do it in a one-line description, (we play) positive, make-you-want-to-move music," Barlow said. The three band members don't have a problem getting into musical grooves, Kimball said, because they've known each other for a while. Kimball and Hayes grew up together in New Hampshire, and Barlow has known them since he moved to Steamboat two years ago.
"We were just friends kind of fooling around with music, and we decided to start a band because people liked it," Barlow said. Knowing each other outside of the band gives String Board Theory a looseness that can't be manufactured.
"I think if you know somebody pretty well, it's easier for you to get into their musical headspace," Kimball said.
About 95 percent of String Board Theory's show is instrumental, but the band says it will throw in vocals for a cover, or whenever else it seems like a good idea.
Kimball said "when the people need it, when they're just fiending for the vocals," the band will break them out. When String Board Theory started writing original songs, its three musicians were putting together music, not writing lyrics.
"We like to focus on the music, because that's the most important part," Barlow said. "I don't think anyone's really an adamant singer, either."
Kimball figures the band might drift toward lyrics as it stocks up on playing experience.
"You nurture it through the passage of time," he said. For now, String Board Theory is happy making people dance by playing the music they would want to hear.
"That's kind of what I listen to, is different genres. (We're into) mixing them all together and not being defined by one genre," Barlow said.