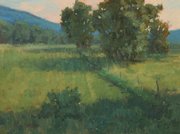 Steamboat Springs — To look around Steamboat Springs is to see a series of landscapes ripe for painting. From the mountains to the streams, the view is picturesque. So picturesque that international painting teacher Jeanne Mackenzie will be hosting a three-day workshop later this month to teach aspiring artists how to capture the beauty of the Yampa Valley.
Mackenzie will be instructing up to 10 students in an outdoor painting workshop Sept. 24 to 26, taking them to locations across the valley to learn how to paint "en plein air."
"It's outdoors landscape painting, and you really can't miss if you're painting in Routt County," said Betsy Chase, director of operations and visitor services for the Steamboat Art Museum, which is responsible for bringing Mackenzie to Steamboat.
This type of painting is Mackenzie's specialty. She is the founder of the Rocky Mountain Plein Air Painters, and her artwork depicting Colorado's landscapes can be seen in the Wild Horse Gallery on Lincoln Avenue.
Mackenzie said outdoor painting presents a set of new challenges but also makes artists better at studio painting.
"You're dealing with changing light, you're dealing with wind, you're dealing with bugs," she said. "Every 15 minutes it's a different painting. You have to learn to choose a shadow pattern because you don't want an 8 o'clock bush, a 9 o'clock tree and a 10 o'clock river."
Because of the changing light, students will have two to three hours to complete a painting. Mackenzie said the class will travel around the region to find the best setting for their work.
"We'll have a half-day of studio time, also we'll probably set up and do some quick exercises, then we'll go out in the field and apply what we've learned," she said. "We'll look for different things - we'll look for trees changing colors, we'll look for reflections in the water, so maybe we'll go up to Steamboat Lake, and we'll look for flowing water."
Mackenzie has been painting for 20 years and teaching for 10. Steamboat Art Museum President Shirley Stocks said that experience helps Mackenzie explain the process to beginners and experts.
"She's an excellent, excellent teacher," Stocks said. Although Mackenzie has never taught a class in Steamboat before, she was a part of a plein air painting demonstration group last winter.
"It's very much hands-on and in-depth explanation of technique, color and materials," Stocks said. "She explains it where it makes sense and is very simply explained."
Five students have signed up for the 10-person course, coming from across Colorado. Mackenzie said she welcomes painters of all ability levels.
"I don't want people to take my class to paint like me, but to paint like they want, and to take it to the next level," Mackenzie said.
The course costs $395. Application forms include a list of supplies needed for the course and are available at the Steamboat Art Museum.