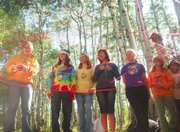 Steamboat Springs — The Rocky Mountain Youth Corps' Science School program is hosting 80 sixth-graders for a weeklong camp focused on ecological diversity and understanding. But Mark "Cottonwood" Wertheimer, program director for the corps, said the program is about more than just the environment.
"On the surface, it's a way to learn about the environment and make a connection and learn about their role. Part of it is being excited about learning and to start middle school in a unique way," he said. "It's a way to have a memorable experience and enhance their learning in general."
Corps staff members run the program, held at the campgrounds at Perry-Mansfield Performing Arts School and Camp. Parents and junior and senior leaders assist the corps staff. The senior leaders are mentors with Partners in Routt County and junior leaders are high school volunteers.
Parent volunteers also are welcome at the camp, where they help serve food, supervise activities and organize programs.
"It's also a chance (for the sixth-graders) to make connections between high school students who serve as positive role models, and for the high school volunteers to have a sense of being valued by the community," Wertheimer said.
The curriculum focuses on four ecosystems: wetlands, aspens, evergreens and meadows.
Margo "Marmot" Beswick and Pete "Moss" Kraska returned for a second year as senior leaders at the camp and said several programs have been updated this year to reflect changes in the local ecosystems, including a session on beetle-killed pine.
Kraska agreed, however, that the most important part of the week was bonding. "We're making tight-knit intergenerational bonds," he said. "That's what we're going for."
Ellie "Knik" Glover, an assistant coordinator who helped organize the curriculum, said other areas added this year include a zero-waste program that rewards cabins that don't waste food during lunch.
"It's really lucky this was able to happen," she said. "If this were a summer camp, it would only be for some students. But this way, everyone gets to do it."
The camp is funded through the corps fundraisers, grants and parent fees. This year, the Education Fund Board granted $25,000 from the city's half-cent sales tax for education, and parents paid $125 per student. Many parents overpay, Wertheimer said, and the extra money goes to a general scholarship fund so that all sixth-graders can attend the activity.
Half of Steamboat's sixth-graders attended the camp last week, with the remainder attending this week. Next week, the camp will host sixth-graders from Hayden and Soroco, as well as several home-schooled students.
Parent volunteers Jill and Craig Brundridge were helping at the camp Wednesday, the first day after students had spent the night. They said they wanted to see the camp for themselves and check in on their daughter, Corbin, who hasn't spent much time away from home. They found that may not be necessary.
"She said they don't have any time to think about home," Jill Brundridge said.