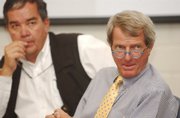 Steamboat Springs — Routt County Sheriff Gary Wall and the Routt County Board of Commissioners butted heads Tuesday in the latest installment of what has become a periodic ritual for the county's top administrators and law enforcement officer.
At issue Tuesday were Routt County Sheriff's Office expenditures, which are projected to be nearly $300,000 over budget in 2008.
"That, to me, is absolutely frightening," Commissioner Diane Mitsch Bush said. "Revenues are going down. Expenses everywhere in every department are going up. : Quite frankly, we're in the hole. We're in the hole for 2008 for over $1 million. We don't have the money. That's the bottom line."
Little was resolved during a meeting in which commissioners sought, in vain, for concrete solutions to a budget crisis that they were appalled to just be learning about, while Wall steered the conversation toward justifications of the overages and discussion of his law-enforcement philosophies.
The sheriff's justifications ranged from the increasing cost of ammunition to the costs associated with court-ordered, round-the-clock supervision of Luz Cisneros, a Steamboat Springs woman convicted of first-degree murder Tuesday in Routt County District Court. The biggest overages were in the department's overtime budget.
"I want to be frugal, and I want to not spend any extra money, but I have a statutory requirement to provide an adequate level of public safety," Wall said. "I don't have a clear cut answer on what we're going to do because obviously we have to provide public safety to a level that's acceptable to the community."
While commissioners were sympathetic to some of the justifications, including those related to Cisneros, they weren't buying others.
"That is a huge jump," Commissioner Nancy Stahoviak said after comparing a line item from the Sheriff's Office 2006 and 2008 budgets. "Something else is going on."
"Something else is going on; there's a new sheriff," Wall quickly replied, saying that higher costs may be the result of a higher standard for the department on his part. "One of the things I wanted to do was professionalize the office. I wanted these cases to be handled differently than they were before."
'Open checkbook'
The tone of the meeting followed the tone of preceding correspondence between the commissioners and sheriff. On Sept. 2, commissioners sent Wall a letter citing state budget law that says it is illegal for public officials to exceed their budgets and that those who knowingly or willfully do are "guilty of malfeasance" and "shall be removed from office."
"Unless we can come to some understanding on this issue," the letter concludes, "we will instruct the Finance Department to not pay bills exceeding the budget and refer the creditors to you."
Wall expressed "regret" and "great concern" in a response dated Sept. 6.
"I take my job and my responsibilities very seriously and maybe too personal at times," Wall wrote, "but I felt unduly threatened rather than reminded by the spirit of your letter. I couldn't help but wonder how department heads who are having problems meeting their budget would feel if they had received a letter such as yours."
Wall specifically cited the Road and Bridge Department as another that is over budget, to a tune approaching nearly seven figures. Mitsch Bush acknowledged the same, but noted that most road and bridge overages were because of circumstances such as high oil costs that are out of the county's control. Mitsch Bush also noted that officials in that department approached commissioners with supplemental budget requests.
"They let us know as soon as it was happening," Mitsch Bush said.
Wall conceded during the meeting that, "We didn't prepare the budget very well, I guess," and, "We should have come in earlier, for sure." He said he would return to the commissioners with a supplemental budget request, but commissioners were more interested in a plan to avoid some of the overages.
"We don't know how we'll react to a supplemental request if every effort isn't made to cut back," Stahoviak said. "The Sheriff's Office has had an open checkbook without consulting with us, and that's so obvious."