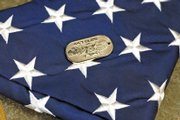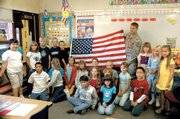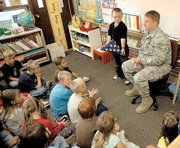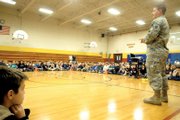 Get involved
Send letters to soldiers
For more information about writing to military members serving abroad, call the Veterans Affairs office at 824-3246.
E.J. Caras was easy to spot at Craig Intermediate School on Friday morning.
While everyone around him laid their hands over their hearts as they recited the Pledge of Allegiance, Caras saluted.
While nearly everyone was dressed in jeans and T-shirts, Caras wore desert-colored fatigues and heavy, tan boots that laced up well past his ankles.
And then, there was his height. Caras stood about twice as tall as most of the fifth- and sixth-graders seated on the gym floor in front of him.
But Caras, a U.S. Air Force senior airman who grew up in Craig, shared at least one link with the students.
Last year, Caras and nearly 100 other members of his squadron at the Baghdad-based Sather Air Base received letters from his niece, Abigail Gonzales, and her fifth-grade classmates at CIS. Students from his nephew Tyler's class at Sunset Elementary School also sent letters to the squadron.
Christy Gonzales, Caras' sister and Tyler and Abigail's mother, arranged the correspondence between soldiers and students.
Caras and others in his squadron welcomed the letters.
"You're pretty isolated when you're deployed," he said. "And, when you get letters from kids, family members : it always lifts your spirits.
"When you get a whole class like this to write to you, it really brings up your spirits."
Students often included tidbits about their lives, their families and their pets in their letters.
"Quite a few of them said they were proud of the military," Caras said.
One student asked how to join the ranks of those serving in uniform.
Students from Cheryl Arnett's first-grade class sent other items to Caras and his fellow soldiers, including magazines, snacks and tennis balls.
The last gift was a hit.
Literally.
Squadron members found sticks to use as impromptu bats and used the tennis balls to play baseball. But that pastime ended when a soldier knocked a tennis ball into an airplane engine.
"We got in trouble for that one," Caras said, laughing.
The adults weren't the only ones who benefited from the exchange.
"I think (the students) put a lot of effort and thought into the letters because they knew a real person would be reading them," Arnett said. "It was very meaningful writing for them."
Squadron members responded in kind, answering each letter the youths sent them.
But something happened between Craig and Sather Air Base.
The squadron members' letters never reached their destination.
After they'd sent their letters, "Morale went way up there," Caras said. "And then, the second after we heard : that those letters didn't get there, the morale dropped."
Squadron members wrote other letters and gave them to Caras to resend, but CIS and Sunset Elementary students would be out of school by the time the letters reached them.
So, Caras did the next best thing.
"I told (the squadron) I'd make a personal appearance and try to do something special" for the students, he said.
With approval from his superior, Caras arranged to have American flags flown on U.S. Air Force deliveries in honor of the student pen pals. One flag accompanied cargo to Iraq, while the other went to Afghanistan.
Both flags remained unfurled over the main cargo door during the mission and were ceremonially folded when the trip was finished.
Caras, who is now on leave, delivered the flags to CIS on Friday and Sunset Elementary on Tuesday, complete with a certificate verifying the mission and a medal bearing his squadron's insignia. Plans are in the works to put the flags on display at both schools.
During his delivery to Sunset Elementary on Tuesday morning, Caras took questions from students about his experiences abroad.
Their hands popped up swiftly as questions came to their mind.
"Are you the captain of your team?" one student asked.
No, Caras said, adding that he was "just one who followed the orders."
Another student asked whether he was allowed to fly airplanes.
The answer again was no. Caras explained that he was enlisted personnel, adding that officers are allowed to fly aircraft.
Caras patiently answered students' questions, smiling and laughing with them.
And, after presenting a flag and medal to CIS on Friday, students rose to their feet and applauded him and his newly completed mission.
Caras' eyes were rimmed red with emotion afterward.
"I never got a standing ovation" before, he said. "It's pretty cool."
Once again, the solider in uniform wasn't hard to spot. This time, though, it was the emotion on his face that set him apart.
Bridget Manley can be reached at 875-1795 or bmanley@craigdailypress.com