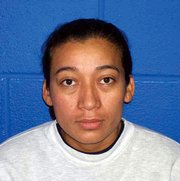 Steamboat Springs — Luz Cisneros testified in her defense at her murder trial this morning.
Cisneros discussed her history of caring for her 1-year-old daughter, Brianna Simon, whom she is accused of killing. After she was born, Brianna came home from the hospital and needed an oxygen tube for a couple of weeks, Cisneros said.
"I was making sure her tube doesn't fall out," she said. "I didn't sleep during those nights."
Cisneros, 34, is charged with first-degree murder in the Sept. 6, 2007, death of her daughter. If convicted, she could get life in prison without the possibility of parole. Cisneros has pleaded not guilty, and her defense has indicated that she was too emotionally overwhelmed to know what she was doing when she cut Brianna with a knife. Cisneros said she never meant to harm her daughter.
Cisneros, a legal resident alien who is from Mexico, said she told the child's father, Isaias Simon, that she might hurt herself and the child. Simon testified last week that he did not think Cisneros would act on those threats because she was a loving mother.
Cisneros responded to questions in English during the trial today, though an interpreter repeated questions to her in Spanish. She frequently became emotional, reaching for tissues and crying.
Her lawyer, public defender Sheryl Uhlmann, asked whether Cisneros loved her daughter.
"More than my life," Cisneros said.
Uhlmann entered a page from Brianna's baby book into the record today. On it, Cisneros had written that she wanted the child to learn self-defense.
"Were you afraid that people might hurt your child?" Uhlmann asked.
"Yes," Cisneros answered.
"Why?" Uhlmann asked.
"Because of my experiences," she replied.
Cisneros then discussed her childhood in Mexico. The defendant described being abused by her father, who she said acted violently toward her mother and siblings.
When Uhlmann asked Cisneros whether she ever made a "specific, conscious objective" to kill her child, she repeatedly said no. When Deputy District Attorney Carl Stahl cross-examined Cisneros, he asked what she thought that phrase meant. Cisneros answered that she didn't know.
"So every time your attorney asked you if at certain points you had the specific, conscious objective to kill your child, you didn't even know what that meant?" Stahl asked. Cisneros asked Stahl to repeat the question, and he moved to another instead.
He asked whether she was being a loving mother when she told Simon that she might harm Brianna. She said yes.
"Even when I was telling him about my thoughts, I never ever stopped to care for my daughter," Cisneros said. "I always was protecting her and making sure she had everything that she needs."
Stahl also challenged statements Cisneros made today, suggesting that they contradicted what she told Steamboat Springs police Detective Matt Harmon after Brianna's death.
Stahl asked whether Cisneros was trying to prove something to Simon, who was planning to leave her. Cisneros was considering moving to Wisconsin with Brianna, and Simon said he would not join her, she said.
"Were you angry at him?" Stahl asked.
"Yes," Cisneros replied.
"Did you want to prove to him that the things you had told him about, the threats, they were going to happen?" he asked.
"I didn't want to prove nothing to him," Cisneros replied.
"So when you said that in your statement, you weren't telling the truth?" Stahl said.
"I was telling the truth, and I'm going to repeat again," Cisneros said. "When I was saying that to him, it was to prove to him how far I would go to protect my daughter."
"And how far you would go is to kill her?" Stahl said.
"I didn't meant (to) kill my daughter," Cisneros said. "That was not my purpose. My purpose always was to find a way how I can protect her."
The trial was scheduled to reconvene at 1:40 p.m. Stahl said he was almost finished with his cross-examination, and neither side plans to call more witnesses in the case.
To reach Blythe Terrell, call 871-4234 or e-mail bterrell@steamboatpilot.com