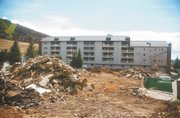 Steamboat Springs — The demolition of Ski Time Square continues this fall with the pending razing of the large building housing the former Steamboat Mountain Theater.
Jane Blackstone, of The Atira Group, which plans to redevelop Ski Time Square, said the demolition of Building G, as it is known on site plans, will be very deliberate.
"It will be taken down in chunks," Blackstone said. "They are beginning to chew away at it on the sides. It's the tightest in terms of impinging on other businesses."
Demolition crews also must be careful of the parking deck in front of the theater building because the underground parking it covers remains leased to the nearby Ski Time Square Condominiums until alternative parking is developed for those homeowners.
One business that will remain standing at least for another winter is the Tugboat Grill & Pub. Next door, the building that formerly housed Lupo's has come down.
"The Tugboat is standing alone in a pile of rubble right now," Blackstone said.
However, once the neighboring site is cleaned up, patrons will be able to park on a parking deck this winter, she said.
Across Ski Time Square, where the Thunderhead Lodge already has been torn down, asbestos abatement for the associated Thunderhead Condominiums is taking a little longer than originally thought, Blackstone said.
Atira still is intent on having the demolition of the slopeside condos completed and the site graded by Thanksgiving.
"That's a goal we've been trying to beat if we can," Blackstone said.
Atira still hopes to go before the Steamboat Springs Planning Commission and City Council this fall to present its application for a development permit for the redevelopment of the Thunderhead site. Company officials have said it will represent the first vertical construction in the project, ahead of any new buildings in Ski Time Square.
Blackstone said Atira also has a date with the Planning Commission on Sept. 25 to discuss alternatives to creating the new looped road the city has sought in Ski Time Square.
The Atira Group informed City Council earlier this summer that its negotiations with the Ski Time Square Condominiums Homeowners Association for access had reached an impasse.