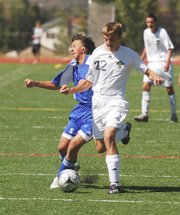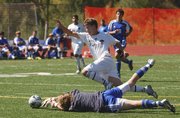 Steamboat Springs — The face protector Steamboat Springs High School soccer player Leo Starbuck wears to protect a broken nose suffered during a tournament this summer had limited the senior for most of the season.
"It changes everything," Starbuck said. "It magnifies everything, and you don't have any peripheral vision. At first, it limited it a lot."
Starbuck proved during Saturday's 2-0 win against Centaurus that the mask no longer is a limiting factor.
Starbuck gave Steamboat an insurance goal in the 47th minute Saturday when he masked - er, headed - in a shot to put the Sailors up, 2-0.
The play came when fellow senior Blake Eddington had his own throw-in deflected back to him. Eddington sent a cross to the back post, where Starbuck jumped, cocked his head and finished the play.
"That was just amazing," Starbuck said. "It was my first goal of the season with that face mask. All I did was leap and got it in."
Starbuck's goal highlighted a day in which the Sailors (6-0 overall, 3-0 in league play) could easily have scored three, four or even five more goals.
But thanks to Centaurus senior goalkeeper Ben Thomson, Steamboat had many of its chances turned away.
Still, Sailors coach Rob Bohlmann came away from the game feeling good about his team, which is about to enter the heart of its Western Slope League schedule.
"We have to continue to learn how to tuck it away," Bohlmann said. "But I feel really good about the group work through 80 minutes. We buckled down when they finally found their rhythm. Their 15 minutes of attacking soccer is when we really buckled down."
Steamboat continued its torrid start in the first five minutes of games. This time, it came from senior Daniel Wright, whose goal in the third minute gave Steamboat a 1-0 lead.
The Sailors continued to control the pace of play throughout the first half, just missing several opportunities to put the game out of reach.
Wright sailed one just over the net in the 25th minute; Josh Fix's cross barely was deflected two minutes later; Tony Rende's free kick was tipped out in the 34th minute; and Eddington's run was thwarted by a sprawling Thomson.
Steamboat finally converted early in the second half on Starbuck's header.
The Sailors had opportunities in the 56th, 78th and 79th minutes to put a third goal on the board, but Thomson came up big each time.
With the pre-league schedule done, and two games against league favorites Battle Mountain and Eagle Valley still on the schedule, Bohlmann said the focus will be to continue to get better and position themselves in the fight for a league title.
"We're really excited about being 6-0," Bohlmann said. "I hope that excitement carries over. It's about being a better group every day. We need to use that excitement and build that into our passion within our group."
Steamboat plays at 5:45 p.m. Thursday in Glenwood Springs.