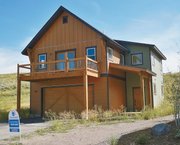 Steamboat Springs — The filing of foreclosure notices in Routt County is on pace to exceed the seven-year average by 44 percent, but some Routt County property owners are working with their lenders to extricate themselves from mortgages that have become untenable well before there is a need to entertain foreclosure.
Routt County Public Trustee Jeanne Whiddon said that through the end of June, her office had processed 36 foreclosure filings compared to an average of 50 a year since 2001. However, that doesn't meant that by year's end the number of homes sold in foreclosure proceedings will come near that number. Homeowners have from 110 to 125 days to resolve their situation with their lenders.
"I've had only one go to sale this year," Whiddon said. The Bank of New York held the loan on the property in Hayden.
Of the 36 instances when lenders formally filed notice of their intent to foreclose this year, 13 already have been withdrawn, Whiddon added.
"In some cases, that could mean the lender and the borrower reached an understanding or a payment plan," she said.
Of the seven foreclosure sales Whiddon's office had scheduled as pending in September and early October, six are off the calendar because the lender filed notification of its intent to cure the defaulted loans, Whiddon said. The seventh could be headed for a court proceeding, she said.
South of Steamboat Springs in unincorporated Stagecoach, where real estate transactions have been slower than average for Routt County this summer, there are two new homes for sale at prices reduced under a little-known procedure called a "short sale." They are not in foreclosure proceedings.
Instead, the Federal Housing Administration reports, a short sale takes place when the property owner's lender is willing to accept a discounted payoff - an amount lower than the value of the loan - to release an existing mortgage.
That arrangement can come about when a borrower goes to the lender and lets them know they are having trouble making the payments. Lenders may agree to a short sale to avoid going through the expense of foreclosure.
Realtor Cindy MacGray, of Prudential Steamboat Realty, has listed a pair of single-family homes built in 2007 in the Red Hawk Village neighborhood of Stagecoach for less than $400,000.
The homes on Sagebrush Circle include two-car garages, granite countertops, alder cabinetry and wood floors. And they have never been lived in.
One, comprising 1,874 square feet, is priced at $398,000, and another, offering 1,643 square feet, is priced at $345,000.
In March and April of 2007, some Red Hawk Village homes sold for $555,000. Another group of sales came in at $430,000 and $488,000 in July and August.
MacGray said she and the sellers studied the current market to arrive at a new asking price they think is fair and will motivate buyers. However, even if the sellers receive an offer they agree to, the lender still must approve the deal.
Should the sale go through, the seller walks away without any money and the possibility that he or she may be liable for income tax on the difference between the loan value and the lower short-sale price.
Sellers and buyers should consult with attorneys and accountants before entering into a short-sale transaction, MacGray said.
And buyers should anticipate that it can take weeks longer to close on a short sale as compared to a standard real estate transaction.
"The seller submits the offer to the lender," MacGray explained. "It could take the lender one to five weeks to approve it."
However, she said, she hopes the short-sale homes in Stagecoach present an opportunity for Routt County buyers hoping to make the move from a townhome to a single-family home, for example. Or, perhaps a second-home buyer looking for a boating, fishing and snowmobiling lifestyle near Stagecoach State Park and Lynx Pass.
Through July 31, Stagecoach had seen 27 transactions this year, for an aggregate of $11.62 million and an average price of $430,593.
MacGray recently worked with a Stagecoach seller who traded up from a townhome to a single-family home in Stagecoach, fewer than five years after purchasing the townhome.
Red Hawk Developer Ren Martyn would like to see Routt County families move into the homes.
Martyn said 19 of the homes at Red Hawk (the subdivision comprises 29 lots, not all of them developed), were sold during the height of Steamboat's record year in 2007.
"We had a group of buyers, mainly from the Front Range, who were represented by a real estate consultant. They contacted us pre-construction and contracted all of our homes with the exception of eight (originally) deed restricted and two sold to local buyers through local Realtors," Martyn said.
"I believe most (of the buyers) were highly invested in real estate" in the mountain markets and elsewhere, Martyn said. "The financing got very difficult, and they were not able to withstand the real estate recession. It's unfortunate for our subdivision, and it's unfortunate for them."
Martyn said he hopes the short sales can offer the beginning of a turnaround at Red Hawk Village.
"If the short sales proceed, it's a good thing. It starts the turnaround, and, hopefully, we get families in our subdivision. That's what we intended from the beginning."