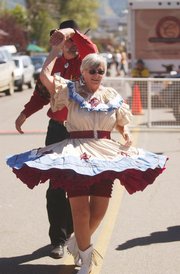 South Meets Old West Festival chili cook-off winners
Firehouse Chili
Dave Murray, Big House Burgers
Green Chili
1st - Diane Townes and Meredith Herndon
2nd - John Weybel
Red Chili
1 st John Salisbury and Charlie Noble, Mahogany Ridge
2nd (tie) - Aaron Abdo, Big House Burgers; Robert Cooper
People's Choice Award
1st - Mahogany Ridge
2nd - Dave Nelson, The Homesteader
Cornbread
Kristin Cronin, KBCR
Salsa
Sean Goddale, Rio Grande Mexican Restaurant
Steamboat Springs — When you're making salsa by the gallon, it takes all night to chop enough chiles to satisfy the crowd, Dana Thelander said Saturday at the South Meets Old West Festival.
"It takes awhile, especially when you use the fresh green chiles, because you have to chop 'em and clean 'em all," teammate Marralee Figueroa said as hungry hands reached into her booth for a taste of "Diva's Dynamite Salsa."
A hungry crowd ran chili cook-off contestants out of their creations early Saturday afternoon during the festival - a new event combining Mainstreet Steamboat Springs' Downtown Hoedown & Chili Challenge and Integrated Community's Festival of the
Americas, a celebration of the Mexican Independence Day.
Attendees entered the festival through a balloon arch - half red, white and blue and half red, white and green - to spend the day eating tamales and green chili, and taking their turns at square and salsa dancing.
"I got feedback from folks all day that it was natural, that the combining of the events had really good synergy," Integrated Community Executive Director Tatiana Achcar said.
Across the cornbread, salsa and chili categories, 26 entrants and teams brought their delicacies by the gallon and panful Saturday. Ultimately, the red chili by John Salisbury and Charlie Noble of Mahogany Ridge edged that made by Dave Nelson from The Homesteader, and was voted the crowd favorite.
"That's the big award," Mainstreet Steamboat Springs Manager Tracy Barnett said. "That's the one everyone is gunning for."
Not only did Steamboat Springs residents Matt and Stephanie Murphy dazzle the crowd's taste buds with their "Renegade Red" chili, they took presentation to a new level Saturday by serving their creation in a stand Matt constructed on site, using old barn wood.
"We're going to have to have a 'best booth' category next year," Barnett said.
Although the crowd petered out a bit as the chili pots ran dry, a group of attendees remained at the main stage, dancing along to tunes from Mariachi Juvenil Real de Mexico, and singing along to the perennial favorite "Cielito Lindo." Sun Dog performed earlier in the day, as did folkloric dancers Baila Conmigo.
Eduardo Arnal, consul general from the Mexican consulate in Denver, led attendees in the "Grito," an independence cry, to close out the South Meets Old West Festival. Arnal's cry of "Viva Mexico!" was met with a raucous "Viva!" from the assembled crowd.
"It blended pretty well. It's just been a real mix of people here today," Barnett said.
- To reach Melinda Dudley, call 871-4203 or e-mail mdudley@steamboatpilot.com