Photo Gallery
Bud Werner Memorial Library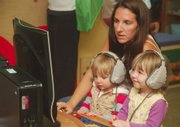 With an elevation gain of 3,000 feet in just 30 steps, you might consider it the most challenging hike in Routt County - or even the world.
In reality, it's a leisurely stroll across the first floor of Bud Werner Memorial Library's recently opened expansion, where Minneapolis artist Brad Kaspari has reproduced the topographic lines from actual maps of the Steamboat Springs area into a terrazzo floor.
Barb Ross, a library board member and chairwoman of its public art committee, said the floor design accomplishes two goals by speaking both to unique features of the community and libraries as "places that help you navigate the world."
It's just one imaginative element created by artists from near and far in the striking expansion that opened its doors to the public for the first time Friday. The library offered tours from 11 a.m. to 6 p.m. Friday that will continue from 9 a.m. to 5 p.m. today, noon to 5 p.m. Sunday and 11 a.m. to 1 p.m. Monday.
"We knew from the beginning we wanted to have some artwork built into the building, not just on the walls," Ross said.
Other significant works of art in the expansion include carved wood panels in the library's local history room, where a Ute Indian poem is cut into the cherry veneer, and on its first floor, where literature-related quotes from Rumi and Shakespeare are carved in a number of languages. Christine Borden, of Steamboat Springs, created the designs on a computer. They were later cut into the cherry with a laser.
One side of a group project room for teenagers is adorned with a stained-glass window created by Arthur Stern of Benicia, Calif. Having been told about the cottonwood trees that line the nearby Yampa River, Stern's hand-blown glass straddles the dichotomy of order and chaos by combining a grid layout with a design of cottonwood leaves in the wind.
Mike Roach and Craig Rench, of Oak Creek, crafted a massive community reading table and chairs on the second floor that include an inlaid center panel made of river rocks and 40 percent recycled materials. And Christopher Oar, of Steamboat, welded rusted steel bike racks between the building and the Yampa River.
The library was crowded early Friday afternoon, and filled with the sounds of words such as "wow," bouncing gently off fabric-covered ceiling tiles chosen for their soft acoustics.
"This is gorgeous," Steamboat resident Keith Zuehlke said after taking a tour led by Ross. "Absolutely gorgeous. They've paid a lot of attention to detail, which is so important to making it function. I could probably live down here eight hours a day."
Funky chairs and etched glass were other aesthetic features enjoyed by library visitors Friday, but construction superintendent Brad Dean had something else to be excited about: the project's efforts to receive a silver Leadership in Energy and Environmental Design award for its energy efficiency and other green features. Those features include footstools made of recycled cardboard and carpet tiles made from recycled soda bottles.
"That's the most important thing about this building," said Dean, of contractors Adolfson & Peterson Construction. "The LEED thing is what touches me."
The project has not officially been awarded a silver certification, a decision that will be made after the remodeling of the library's original building next door. That phase of the project is scheduled for completion in January, Dean said, and will house "back-of-the-house" operations such as offices in and a large community room.
The $12.5 million expansion and remodel is being paid for by $11.4 million in voter-approved funds and $1.1 million in grants and private donations. The library has added 8,000 titles to its collection - including 1,500 titles in a new music collection - for a total of 88,000 titles.
- To reach Brandon Gee, call 871-4210
or e-mail bgee@steamboatpilot.com