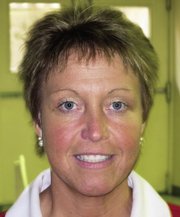 The executive director of Routt County Habitat for Humanity is under investigation for embezzling more than $7,000 from the Rio Blanco County Historical Society, authorities confirmed Thursday.
Executive Director Shelly Flannery has been accused of paying personal bills using funds from the historical society, for which she was treasurer until July. No charges have been filed against her.
The Rio Blanco County Sheriff's Office and the Meeker Police Department are cooperating on the investigation, Rio Blanco County Undersheriff Mike Joos said. Joos said the investigation is ongoing as law enforcement officers gather bank records.
Routt County Habitat for Humanity President Jeffery Weeden said he was aware of the accusations and intends to double check the organization's accounts, although Flannery does not have access to Habitat's funds or the authority to sign its checks.
"We take this kind of information pretty seriously, and so even though we haven't had any problems with Shelly and she retains our confidence, we're going to take it very seriously and recheck all of our accounting and make sure the funds entrusted to Routt County Habitat for Humanity are being dealt with appropriately," he said.
Flannery did not respond to messages left at her office and on her cell phone Thursday.
Steve Wix, president of the Rio Blanco County Historical Society, said he noticed the alleged embezzlement when bills for Flannery's private cell phone and other purchases were put on the society's accounts. Wix said the charges totaled more than $7,000.
Wix said Flannery indicated she had mistakenly used the group's account to pay her personal bills.
"I thought she would pay us back, but she never did," Wix said.
Flannery also is accused of taking $7,300 in small bills and checks donated to the society, but she later repaid that amount, Wix said. The outstanding $7,000 will have consequences on the organization and will force the group to cut back on its budget for the White River Museum in Meeker, Wix said.
Flannery's cell phone message identifies the number as part of Habitat for Humanity, but Weeden said the group does not pay for the phone. The board for Routt County Habitat for Humanity will be notified of the allegations and the group will decide what, if any, action to take later this week, Weeden said.
"It's a tough time, and we're big Shelly fans, but we know there are some things that need to be worked out here," he said.
Flannery has been involved in Moffat County organizations, as well, most recently as executive director of the Moffat County Tourism Association from June 2006 to January 2008. MCTA is a board of volunteers that spends Moffat County lodging tax revenue - about $160,000 in 2008 - on promotional marketing and advertising for local tourism.
Flannery resigned from the MCTA in January citing personal reasons. She was paid about $45,000 a year.
MCTA Board President Tammie Thompson-Booker said she contacted County Attorney Kathleen Taylor about the allegations against Flannery.
County Budget Analyst Tinneal Gerber said the county is preparing to do an internal investigation of MCTA finances during the time Flannery worked for the county.
"We're just going to have to evaluate our own information and go from there," Gerber said.