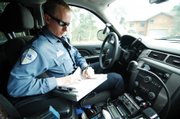 By the gallon
Location of traffic citations and warning issued by the Steamboat Springs Police Department
- Lincoln Avenue: 836 (2008*), 1,869 (2007), 1,398 (2006)
- Steamboat Boulevard: 30 (2008*), 150 (2007), 167 (2006)
*through June 30
Source: Steamboat Springs Police Department
Steamboat Springs — The Steamboat Springs Police Department lacks the resources to devote any officers strictly to traffic enforcement - a result of the same staffing shortages plaguing other city departments and the community at large - the city's top cop said Tuesday.
"Traffic enforcement kind of takes a backseat to what's going on," Public Safety Director J.D. Hays told the Steamboat Springs City Council on Tuesday night. "We don't have a particular officer dedicated to traffic enforcement. : When we are fully staffed, we have the person-power to dedicate someone specifically to traffic."
Interim City Manager Wendy DuBord said the department is short two officers, and Hays said that in his nearly three decades with the city, he can recall a period of about only eight months when the department was fully staffed.
"That's concerning because that's one department I'd like to have fully staffed," said Councilwoman Cari Hermacinski, who initially requested the department's briefing on traffic enforcement practices.
In a memo prepared for council, Capt. Joel Rae wrote, "The Police Department typically has two or three officers on each shift and patrol officers are directed to conduct traffic enforcement when time allows and when they are not handling calls for service. : There are periods of time when patrol officers are handling calls for service and there aren't any cars available to enforce traffic during these times."
Hays said the department is on pace for 10,500 calls for service this year.
Hermacinski and DuBord noted a recently completed salary survey that showed the city was not keeping pace with other municipalities in paying a number of employees, including police officers. They expressed a hope that higher salaries might cure staff shortages. But in a break later in the meeting, DuBord acknowledged that in a year when the city is facing declining revenues and painful budget cuts, implementation of the salary survey's recommendations is no guarantee.
"More than the salary, there are housing issues," Hays added.
Tuesday's meeting lasted about seven hours, and council also had lengthy discussions on the 2009 budget and the city's regulation of secondary residential units such as the one in which Steamboat resident David Engle died earlier this year after a grease fire ignited in his converted garage apartment downtown. For additional coverage of Tuesday night's meeting, see Thursday's issue of the Steamboat Today.