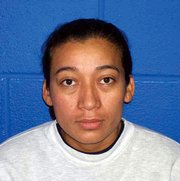 Steamboat Springs — Although the death of 1-year-old Brianna Simon at the hands of her mother was a "tragedy," it was not first-degree murder, public defender Emily Wickham said as Luz Cisneros' trial began Tuesday.
Cisneros is accused of killing her young daughter Sept. 6, 2007, in her Steamboat Springs apartment. In March, she pleaded not guilty to first-degree murder - a charge that requires she acted with intent and after deliberation.
In her opening statement, Wickham declared that while Cisneros had repeatedly made threats to harm herself and her child in the weeks leading up to Brianna's death, she only took action when the emotion surrounding her failing relationship with the baby's father overwhelmed her and caused her to snap.
"She did not act after reflection and judgment. In the moments when Luz Cisneros killed Brianna, she was not herself," Wickham said.
The prosecution painted a different picture of Cisneros. Assistant District Attorney Elizabeth Oldham described her as a "calculated, cold-hearted killer" who murdered her child out of "pure spite." Cisneros used Brianna as a pawn to manipulate and control her daughter's father, in revenge for his having an affair, Oldham said.
Not only did Cisneros wake up on the date of the alleged crime intending to kill her daughter, she showed no remorse afterward, Oldham said.
"She confessed that her only regret was that the knife she used on herself wasn't sharp enough," Oldham said.
A jury of 10 men and four women was sworn in Tuesday afternoon. The group was whittled down from a field of more than 100 potential jurors during a day and a half of questioning from Judge Michael O'Hara, the defense and the prosecution.
Jurors were questioned individually and as a group about their ability to remain fair and impartial given the gravity of the charges and to give their verdict based solely on the evidence presented in court, without deference to pre-existing opinions of Cisneros' guilt.
Jurors also were excused because of relationships with witnesses expected to testify during the proceedings.
If convicted, Cisneros faces life in prison without the possibility of parole. She has remained in custody since her Sept. 6, 2007, arrest.
The jurors briefly heard testimony from two Steamboat Springs police officers who responded to the scene last year before recessing for the day Tuesday.
Testimony will resume at 8:30 a.m. today in Routt County District Court. The trial is expected to continue through Tuesday.