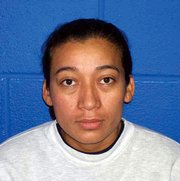 Steamboat Springs — The murder trial of Luz Cisneros will take place in Routt County after District Court Judge Michael O'Hara denied a change-of-venue request made by the defense. Jury selection is expected to conclude today.
More than 100 Routt County residents were called to be potential jurors, and O'Hara spent most of Monday asking potential jurors a series of questions about their ability to treat the case fairly and without bias.
Despite the hours of questions, jury selection will continue today as defense and prosecution attorneys take turns evaluating the juror pool. About 80 candidates remained after Monday's exclusions, and O'Hara said he hopes the selection process will be finished by noon today.
Cisneros is accused of killing her infant daughter Sept. 6, 2007, in her Steamboat Springs apartment. O'Hara said he expects the trial to last seven days.
Public defender Sheryl Uhlmann filed a motion for change of venue on Cisneros' behalf last week, requesting that the proceedings be moved outside the 14th Judicial District, which encompasses Routt, Moffat and Grand counties.
"Massive, pervasive, and prejudicial pretrial publicity" merits moving Cisneros' trial outside of the 14th Judicial District or, at the very least, out of Routt and Moffat counties, because it would prevent Cisneros from receiving a fair and impartial trial, according to the defense's motion.
O'Hara denied the request late last week, but he did not elaborate Monday on his reasons for doing so.
Cisneros pleaded not guilty to first-degree murder March 13. If convicted of the Class 1 felony charge, she faces life in prison without the possibility of parole. She has remained in custody since her Sept. 6, 2007, arrest.
The alleged murder is the first in Routt County since 2000 and only the seventh in the past 30 years.
On Monday, Cisneros, dressed in a blue jacket and black print skirt, remained silent in court throughout the proceedings. A legal resident alien originally from Mexico, Cisneros speaks English but listened to the proceedings through a Spanish-language translator.
Throughout the day, O'Hara questioned the potential jurors individually and in groups about their ability to judge the case based on different criteria.
A frequent question involved the risk that potential jurors already had formed opinions about the case based on newspaper and radio reports. Only a few of the jurors raised their hands when O'Hara asked whether anyone had not heard of the case.
According to discussions between O'Hara and the attorneys, many of the potential jurors responded on the questionnaires that they already have formed opinions of Cisneros' guilt.
"I didn't flag all of those who said they had formed an opinion of guilt, only those who were very adamant about it," O'Hara told the attorneys before jurors were present. "If I can weed out some folks who are particularly problematic, I ought to do that now."
Potential jurors were eliminated throughout the day for a variety of reasons - business obligations, medical issues and vacation plans, among others.
At times, the proceedings moved slowly, such as when a 15-minute break became an hour and a half as O'Hara and attorneys privately questioned several potential jurors. At the end of the day, O'Hara thanked the potential jurors for their time and apologized if the process seemed frustrating, prompting laughter from several jurors.
O'Hara also briefed the potential jurors on the allegations in the case and warned them the hearing may involve graphic photographs and testimony. He acknowledged that it is likely jurors will have emotional reactions to the case, but he asked that they identify themselves only if they expect they will "have strong feelings about this case to the point that you are not able to be fair and impartial."
- To reach Zach Fridell, call 871-4208
or e-mail zfridell@steamboatpilot.com