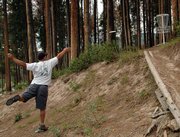 Steamboat Springs — Ron Pannesi's actions explained better than words ever could.
Lining up on the 17th hole of the Thunderhead Disc Golf Course at the Steamboat Ski Area, he tried to explain what makes a good hole and what makes No. 17 one that brings even professional players to pause for a moment.
Then he threw, skipping hard once and letting loose his orange disc. It soared toward the basket, 100 yards away and tucked between some trees. Before it made it even halfway, the disk flew hard into a beetle kill-orange pine tree. It flopped at a 90-degree angle into a stand of trees for another 20 feet, then ricocheted one last time before finally falling to the ground.
"We call this one 'Plinko,'" his playing partner, Jason Ruemelin, had explained moments before.
A wide open ski run near the tee box and one near the basket make 'Plinko' a good hole. A thick grove of trees between those runs - dissected by a narrow, open swath players try to throw through - is what makes it a great hole, he explained.
That the course is doomed is what makes it all tragic for Pannesi and the Steamboat Area Disk League (S.A.D.L).
The mountain pine beetle epidemic that has swept across the West carries with it many consequences. One that is easy to overlook is the Thunderhead course, which will be dismantled this fall as the ski area prepares to manage the pine forest that includes the 18 holes.
"This is the last year we'll be able to have the course laid out like this," Pannesi said.
With that in mind, the course is preparing for its biggest day yet.
Pannesi and S.A.D.L. are hosting the largest disc golf tournament Steamboat's ever seen - and perhaps the only one.
The Sept. 20-21 tournament will be the first sanctioned Professional Disc Golf Association event in Steamboat Springs. It will be a "C-tier" competition, but Pannesi is hoping to attract some of the top talent in the state. He said there will be a category for every type of player, including a recreational division, a masters division and a women's competition.
Prices for the tournament start at $25 and increase $10 with each skill division. Details are available at www.steamboatdisc.com.
The tournament is about more than celebrating the course Pannesi helped carve out of the ski mountain. He said it's about ensuring that, even after the Thunderhead course is buried beneath fallen trees, there's enough interest to create another one.
He said the people at the ski area have been great in helping him set up the course. They've kept it mowed. For his part, his club's Web site encourages players to mind their manners and pick up after themselves.
Still, he's afraid that when this course is gone, he might have a hard time getting another together.
"I'm trying to think like Ski Corp. does. Next spring, they might say, 'Sorry Ron, no course this year because of tree cutting,'" he said. "We are trying, at the end of this year, to have a new course designed, and to be able to say 'This was our tournament. Here's how popular it is.'"
To that end, Pannesi has been keeping his eyes open while hiking Mount Werner's trails looking for a new area suited for disc golf.
He paid the fee out of his own pocket to get the tournament sanctioned, and he talks constantly about keeping Steamboat up with the rest of the nation when it comes to disc golf resources.
"I just love the flight of the disc," he said, explaining his passion for the sport. "It's amazing what a disc can be made to do.
"Some people call it Frisbee golf. This isn't Frisbee golf any more. This is projectiles that are traveling at a high rate of speed and that can bend in almost any direction."