Steamboat's DeLine nails game-winner for CSU
Critics, fans and anyone who worried about Ben DeLine in Fort Collins can all now take a deep sigh of relief.
In just his second game as a starting kicker, DeLine hit the game-tying and game-winning field goals in Colorado State's 23-20 win against Sacramento State on Saturday in Fort Collins.
"Before I kicked it, it didn't feel like any other field goal," DeLine said. "After the kick, it was an amazing feeling."
DeLine finished the game 3-of-3 on field goal attempts, connecting on a 23-yarder early in the fourth quarter, and nailed both his extra point attempts.
Sacramento State went up, 20-17, midway though the fourth quarter, before Colorado State embarked on a time-consuming drive.
With 1 minute, 29 seconds left in the fourth quarter, DeLine hit a 36-yard field goal to tie the game at 20.
On the next Sacramento State possession, Colorado State recovered a fumble and DeLine sealed the win with a 20-yard field goal as time ran out.
"Running out and meeting the team - it was a great feeling," DeLine said. "Hitting a game-winning field goal and having everyone surrounding you - there's nothing like it. There's nothing like it in this whole world. But kickers get all the credit. I couldn't have done it without a great hold, a great snap and people blocking. The majority of the credit should go to the other guys."
The kick was DeLine's first game-winner of his life. He said while kicking against Colorado last weekend was great, nothing beats hitting that game-winner.
"The coaches told me 'you can't kick like a freshman,'" DeLine said. "I'm a starting kicker, and by God, I'm going to go out and get it done."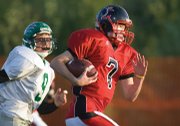 Season statistics
Steamboat Opponent
23 First Downs 23
62-443 Rushes-Yards 87-232
9-26-4 Comp-Att-Int 8-29-1
239 Yards Passing 106
682 Total Yards 338
3-38 Punts-Avg. 8-36
4-1 Fumbles-lost 5-1
15-145 Penalties-Yards 6-55
SCORE BY QUARTERS
Steamboat 28-07-09-06-50
Opponent 00-13-06-00-19
INDIVIDUAL STATISTICS
Rushing
S - Hinder 15-123, 2 TD; Fraser Egan 21-89, 1 TD; Joe Dover 21-206, 2 TD; Charles Wood 2-14; Dustin Siegel 3-11.
Passing
S - Hinder 9-24-4, 239 yards, 2 TD.
Receiving
S - Wood 6-184, 2 TD; Cody Harris 2-33; Dover 1-22.
Steamboat Springs — Finding the character of a football team can prove to be a difficult task.
For Steamboat Springs High School coach Aaron Finch, it always presents a new challenge at the beginning of the season.
Although the coach said Friday night that he has a better grasp of where his team is, following a 29-5 win against Delta, this upcoming week might be the biggest aid in helping the Steamboat coaching staff figure out just what type of team they have.
Steamboat makes the trip to Montezuma-Cortez this weekend, for the team's second league contest of the year.
The almost 400-mile trip will bring the Sailors together multiple times for dinners, meetings and practices. Finch said this might just be the trip Steamboat needs before it jumps into the meaty portion of its schedule.
"I think it is a good thing," Finch said. "You get more of a bond with the more meals you get together. I think when you break bread together, that really helps that bond. The conversation and all the mixes around the tables."
Friday against Delta, Steamboat started to look like the team Finch thought they could be. Save for a lifeless second quarter on offense,
Steamboat was able to move the ball at will. The Sailors rushed the ball 37 times for 281 yards, with junior Joe Dover leading the way.
Dover carried the ball 13 times for 156 yards and two touchdowns. Finch said he started to see signs from the offense that he'd been looking for. In addition to the rushing game, the Sailors were crisp on offense, limiting penalties and turnovers.
On defense, Steamboat again dominated the field of play. The Sailors' defense gave up only three points and limited the Panthers to 98 rushing yards on 35 carries.
Although Finch said he likes the progress on both sides of the ball, he said the team isn't quite where it needs to be.
But with a trip such as the one to Cortez, he said he hopes Steamboat begins to find its potential.
The Sailors leave at noon Thursday. The team will head to Grand Junction, where it will practice at Mesa State and stay for the night. The next day, it will make the rest of the gauntlet trip.
"It's a long yellow bus ride down there," Finch said.
Still Finch said he thinks the long trip works on many levels. If Steamboat is to make the playoffs, the team will have to learn to travel, anyway. Add in the character building it will bring, and Finch said he's excited for the week.
"I think once we realize we're all in this together, we're only going to get better," Finch said. "We're not quite there yet, but it's coming."
- To reach Luke Graham, call 871-4229 or e-mail lgraham@steamboatpilot.com