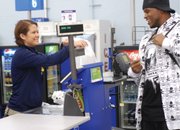 Steamboat Springs — Wary of the damage a big box retailer outside the city limits could wreak on city finances, Steamboat Springs officials are studying how to fit a super store into the west of Steamboat area that has long been planned for city expansion.
The threat of, for example, a Home Depot in Hayden is the resulting unprecedented sales tax leakage from the local economy, already an issue for the city's revenue stream.
"The impact of leakage is huge," Interim City Manager Wendy DuBord said last week. "What happens if you get a large-format retailer outside the city limits? You're exacerbating the leakage problem we already have. It could be very damaging."
Leakage, in this context, refers to the dollars Steamboat residents spend elsewhere. City planners have long bemoaned the loss of local sales tax revenue to Internet shopping and visits to Silverthorne, for example. Although Steamboat officials have not decided to welcome big box retailers as a way to combat leakage, they have decided to plan for the eventuality.
DuBord's comments reacted to direction Steamboat Springs City Council gave Planning Services Manager John Eastman on Sept. 2. Eastman told council he thought the city would be remiss if it didn't at least plan for the possibility that 15 or 20 years in the future, the community might desire a large retailer on the scale of a Home Depot or Super Target.
A majority of council members concurred.
Councilman Steve Ivancie said a retail component west of Steamboat is a necessity and a grocery is an obvious starting point. But he cited a need to think ahead.
In the future "we won't be the Steamboat we used to be, or even what we are today," Ivancie said. "We need to look at what we might need to be."
Going forward, Eastman was directed to pursue twin planning efforts for the area west of Steamboat, where future expansion of the city limits has been anticipated for more than a decade.
"If I could see only one plan, it would be big box," Councilwoman Cari Hermacinski said. "I'm very concerned about sales tax leakage."
Councilwoman Meg Bentley was the dissenter.
"If that big box happened to be a grocery store - I'm all over it," Bentley said. "But a Lowes or Home Depot is not appropriate in Steamboat Springs. It's not what we do best. There's nothing that shows that if we build it, they'll come."
Retail revenue
How much additional sales tax revenue could a home improvement super store generate for local government?
The city paid a consultant in economic planning to generate those numbers in December 2007.
A store of 100,000 square feet would see annual gross sales of $30 million, according to the study. Based on net new sales to the local economy, the city's 4 percent sales tax would generate $407,700 in revenue (the discrepancy is attributable to the percent taxable sales for contractor purchases). The half-cent sales tax for education, which the city collects for its Education Fund Board, would generate about $51,000 in revenue. Routt County also receives revenue from a local sales tax.
The numbers grew substantially when the consultant assumed a 125,000-square-foot general merchandise store. A store such as a Super Wal-Mart or Super Target could be expected to put up $37.5 million in sales and with 50 percent net new sales, dump $750,000 in sales tax revenue into city coffers.
Bentley said the volume of automobile traffic that could be generated by a big box west of the current city limits is of major concern.
Eastman acknowledged early traffic modeling efforts affirm Bentley's worries. It might even be enough volume to overwhelm four lanes on U.S. Highway 40, he added. But the combination of a Lowes and a Target store might also generate enough revenue to help the city address necessary improvements in the U.S. 40 corridor that would be needed even without destination retail. In an era when federal and state funding for highway improvements is dwindling, a portion of the big box tax revenue could be dedicated to backing bonded indebtedness for highway widening, for example.
The development dominating news west of Steamboat this year has been the Steamboat 700 project, which could add 2,000 dwelling units in the next decade and beyond.
The city has said it wants Steamboat 700 to be revenue neutral - in other words, to provide enough commercial activity within its boundaries to offset the cost of providing city services from snow plowing to police patrols.
However, Eastman said large format retail is not part of Steamboat 700's business plan.
"They don't desire it," Eastman said. "Staff will inventory big box sites," throughout the west of Steamboat area.
Just the same, Eastman said later this week, Steamboat 700 tacitly acknowledged, when it recently signed a pre-annexation agreement, that the city could require the developers to make a space for large-format retail within its 500-plus acres.
Public opinion
The city's decision to at least consider super stores as it plans future growth west of Steamboat comes against the backdrop of two recent efforts to gauge residents' enthusiasm for big box retail.
Vision 2030, a citizens' initiative seeking to preserve the "heart and soul" of the community, sampled public opinion on growth issues in an interim report that was just released and circulated in the Steamboat Pilot & Today.
Program manager Tammie Delaney said the interim report is just the first step in identifying the concerns of residents in all areas of Routt County. Residents were asked open-ended questions about open space, preserving community character and the local economy.
Of those responding to the Internet survey, 25 percent advocated altering present economic development patterns.
Within that subset, 67 percent advocated for managing growth. Some of those respondents called for "no big box stores."
However, the work of refining and characterizing the most essential qualities needed to preserve community character is just beginning, Delaney said. It would be premature to draw conclusions about how Vision 2030 respondents as a whole feel about big box, she said.
The city's Economic Development Assessment seems to show that residents' initial opposition to large-format retail stores reverses itself when the impact of the giant stores is mitigated.
When asked if large format stores should be allowed, 54 percent disagreed and 45 percent agreed. However, when asked if they were in favor of large-format stores only in certain areas, 57 percent were in favor and 41 percent were opposed. Similarly, 58 percent agreed to large format stores subjected to strict design standards, or if they were required to address community impacts.
When, not if?
The city has had a big box ordinance on the books since early 2006. It raises the threshold for permitting retail stores of 12,000 square feet or more by requiring them to provide public benefit. However, the large-format stores being contemplated this fall are of another magnitude.
Eastman was careful to tell council last week he wasn't looking for a definitive verdict on large-format retail.
"This doesn't imply a decision: yes big box, or no big box," Eastman said.
But it's clear the city is concerned about the revenue implications of a super store moving in outside city limits.
DuBord pointed out Steamboat Springs is more vulnerable to sales tax leakage because unlike some other mountain towns, it does not have a municipal property tax or real estate transfer tax to balance out its revenue portfolio.
"There's a growing awareness that Routt County is ripe for some form of large-format retail," she said. "It's the level of population, wealth and business activity. It may not be a question of if, but when and where," big box retail comes to Routt County.