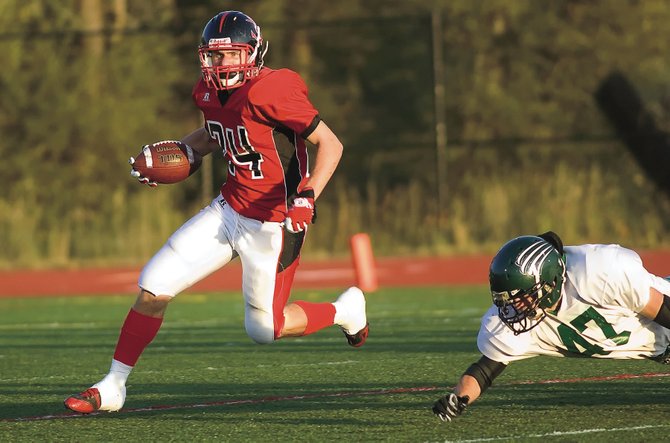 Getting closer
Steamboat wins home opener against Delta as Sailors show more life
Saturday, September 6, 2008
Game statistics
Steamboat 29, Delta 5
Delta Steamboat
10 First Downs 12
35-98 Rushes-Yards 37-281
6-19-1 Comp-Att-Int 3-7-1
64 Yards Passing 72
162 Total Yards 353
4-36 Punts-Avg. 0-0
3-1 Fumbles-lost 2-0
3-30 Penalties-Yards 7-55
SCORE BY QUARTERS
Delta 00 05 00 00 - 5
Steamboat 14 00 09 06 - 29
SCORING SUMMARY
First Quarter
S - 11:02, Austin Hinder 60 run. (Jasper Gantick kick.)
S - 6:17, Joe Dover 4 run. (Gantick kick.)
Second Quarter
D - 5:51, Safety.
D - 0:27, Manny Ramirez 23 field goal.
Third Quarter
S - 4:09, Gantick 28 field goal
S - 0:05, Fraser Egan 1 run. (Kick fail.)
Fourth Quarter
S - 3:14, Dover 74 run. (Kick fail.)
INDIVIDUAL STATISTICS
Rushing
D: Austin Watson 9-35; Michael Patton 13-47; Trent Graff 7-11; Phillip Turano 4-(-2); Ethan Kraai 1-11; Robert Simpson 1-(-4).
S: Dover 13-156, 2 TD; Hinder 8-39, 1 TD; Egan 12-65, 1 TD; Dustin Siegel 3-11; Charles Wood 1-10.
Passing
D: Watson 6-19-1, 64 yards.
S: Hinder 3-7-1, 72 yards, 1 TD.
Receiving
D: Kraai 1-17; Patton 1-11; Eric West 2-19; Corey Hilborne 1-5; Graff 1-12.
S: Alex Wood 2-50; Dover 1-22.
Steamboat Springs — The defense again looked good, the offense started to show more signs of life, and the Steamboat Springs High School football team started to look like a team destined for the playoffs.
There certainly were bumps in Friday's 29-5 win against Delta, but as a team, Steamboat looked markedly better than a week ago in Laramie, Wyo.
"I'm real happy with the response," Steamboat coach Aaron Finch said. "I saw a lot of maturing in this game. You get optimistic, but we need to get better. It's not a performance that will finish us at the top of the league, but we are getting better."
Just like a week ago, Steamboat (2-0 overall, 1-0 in league play) started the game like the team would blow it open. The Sailors scored on their first two drives, one on a 60-yard Austin Hinder run and the other on a 4-yard scamper from Joe Dover, before falling into another lull.
Steamboat's next four drives of the first half resulted in an interception, a missed field goal, a 3-and-out and a one-play drive to run out the half.
Still, where the offense struggled, the defense again responded. The Sailors gave up just 162 total yards, including a meager 2.8 yards per carry.
Delta's one sustained drive came near the end of the first half. The Panthers (1-1 overall, 0-1 in league play) used 13 plays, converting two fourth downs, to get a 23-yard field goal from Manny Ramirez.
Other than that, yardage was at a premium for the Delta offense.
"We thought we were underrated going into the regular season," Steamboat middle linebacker Cody Harris said. "We want to show people they're wrong. We're going to be one of the best defenses around."
The defensive intensity seemed to spark the offense.
In the second half, the Sailors looked much more in tune, especially on the ground. Steamboat gained 281 yards rushing, a large portion of those coming from juniors Joe Dover and Fraser Egan.
After a Jasper Gantick 28-yard field goal late in the third quarter put Steamboat up, 17-5, Dover and Egan started to take over.
Egan capped off a five-play, 42-yard drive at the end of the third quarter with a 1-yard plunge. Dover responded on the next Steamboat drive with a 74-yard run down the left sideline to put Steamboat up for good.
"I was waiting for that long run," said Dover, who finished with 156 yards on just 13 carries. "Finally. Finally I got it. I saw a guy, and I kicked it up into that next game. : But that's what we were waiting for. That's thunder and lightning. You can't stop Fraser on the inside, and when they try, that's when it's there on the outside."
Egan added to the Steamboat ground game with 65 yards on 12 carries.
Steamboat next plays at 7 p.m. Friday in Montezuma-Cortez.
- To reach Luke Graham, call 871-4229 or e-mail lgraham@steamboatpilot.com