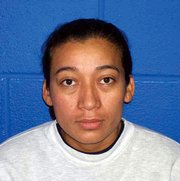 Steamboat Springs — Murder suspect Luz Cisneros is seeking a change of venue for her upcoming trial, which is scheduled to begin Monday in Routt County District Court.
Public defender Sheryl Uhlmann filed the motion for change of venue on Cisneros' behalf Tuesday, requesting that the proceedings be moved outside the 14th Judicial District, which encompasses Routt, Moffat and Grand counties.
As of Wednesday afternoon, District Court Judge Michael O'Hara had not ruled on the matter.
"Massive, pervasive, and prejudicial pretrial publicity" merits moving Cisneros' trial outside of the 14th Judicial District or, at the very least, out of Routt and Moffat counties, because it would prevent Cisneros from receiving a fair and impartial trial, according to the defense's motion.
Cisneros, 34, is charged with first-degree murder in connection with the Sept. 6, 2007, death of her daughter, Brianna Simon, at their Walton Pond apartment.
Cisneros is suspected of killing her young daughter by cutting her neck with a kitchen knife before injuring herself in the same manner in a failed suicide attempt.
In support of its motion, the defense frequently referenced coverage and Web message board comments from the Steamboat Pilot & Today and www.steamboatpilot.com, respectively, as well as news coverage from the Craig Daily Press, Denver Post and Rocky Mountain News.
If the court does not find that "the pretrial publicity has been so extensive as to create a presumption of unfairness" and that a change in venue is not warranted, the defense is requesting additional considerations in the jury selection process, according to court documents.
Cisneros pleaded not guilty to first-degree murder March 13. If convicted on the Class 1 felony charge, she faces life in prison without the possibility of parole. She has remained in custody since her Sept. 6, 2007, arrest.
Jury selection for Cisneros' trial is set to begin at 8:15 a.m. Monday. The trial is scheduled for seven days in Routt County District Court.