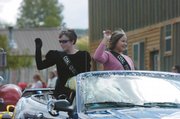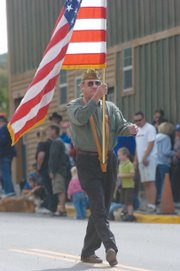 Oak Creek — Isaac Iacovetto, still excited about his Sunday fishing derby victory, bolted back and forth inside the Dragline Bucket before the parade Monday on Main Street in Oak Creek.
"My mom tells me when it's time for the parade," the 4-year-old said. He won the "first fish" award at the derby.
Isaac was racing around with his 6-year-old brother, Sam, who said the parade was his favorite part of the town's Labor Day celebration.
"Let's do a belly bump," he suggested to Isaac, trotting toward him and jumping so their stomachs hit.
"I like this one best," Isaac said about the parade. "I like to run up here and run back down," he added, racing up the curved wall of the bucket.
The two brothers hopped out a couple of minutes later, hearing the sirens signaling the start of the parade. They joined the legions of children scrambling into the street to snag candy and toys being thrown from floats.
Fire trucks, trailers, political floats and horses made their way down Main Street under a sky that was about as gray as it was blue. The rain held off, however, and the hundreds of spectators stayed dry.
Kristen Peters, still bearing a face painting of a butterfly from Sunday's events, said she liked it when someone on a float threw her a keychain. Kristen, 7, planned to head with her family to Decker Park to join in the day's races.
She said she preferred last year's Labor Day parade to this year's.
"I liked the other one better because I got a lot more candy," Kristen said.
Last year's parade might have overshadowed this one, organizer Sandy Wisecup said, because Oak Creek celebrated its centennial in 2007. More people lined the streets to watch last year. Still, she said Monday's event went well.
"I've had people saying it was the best parade they've ever seen," Wisecup said.
Cassy and Amanda Meyer sang the national anthem. Shirley and Ed Montieth served as grand marshals, and Bob Hageman performed color guard duties, Wisecup said. Dakota Wisecup was this year's coal queen, and Brittney Romero was the coal princess.
Dakota Wisecup said no one else competed in the queen and princess competition. She and Romero sold tickets to raise money for the celebration. Wisecup said she sold more than 110 tickets at $1 apiece.
"I wanted to be able to contribute," Wisecup said. "I don't want to see this go down. I've lived here all my life."
This year, there was no sky diving or pig kissing. But visitors headed to Decker Park after the parade to eat burgers, compete in races, play bingo and patronize vendors' booths.
Former town Mayor Kathy "Cargo" Rodeman ran a booth with her daughter Myria Rodeman. They accepted donations and held a silent auction for works donated by local artists. The money will go toward legal fees for Cargo Rodeman and Tashena and Shoshanna Montoya, all of whom were arrested in a controversial July incident.
Authorities confirmed that Oak Creek police Sgt. Erik Foster used a Taser on Rodeman, who was charged with driving under the influence of alcohol and resisting arrest. Rodeman was giving away "Tazed and Confused" T-shirts at the booth.
Myria Rodeman, who lives in North Carolina, helped come up with the idea for the fundraiser, called Art for Justice. In addition to Monday's booth, the pair held a celebration Saturday with music and activities.
"We had over 100 people, which in a town this size is a very large percentage," Myria Rodeman said.
She said she wanted to promote nonviolent means of solving problems.
"We want to spend this energy on art, love and celebration," Myria Rodeman said. "Hopefully, by doing this, we'll change this town with art and justice."
- To reach Blythe Terrell, call 871-4234 or e-mail bterrell@steamboatpilot.com